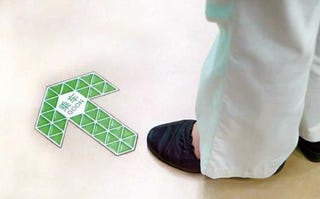 Oh dear. You have two very common words, you remove a space, and you end up with name-calling.
As reported by News QQ and numerous Chinese sites, signs at the Wuhan Metro in Wuhan, China should read "Go On" as, you know, to continue forward. Instead, they simply read "GOON" with an arrow pointing ahead—perhaps to the goon standing in front of you.
Look, there's a "GOON" that way!
The "GOON" arrows are not new. For example, here you can see photos from SouFun that date from 2013.
Chinese site News CJN noted the error earlier this year as well. The Chinese media has, of late, been pointing out more and more incorrect English signs and expressions. That's fine, I think, and it will help ensure that the correct signs are used in the future.
(Of course, "Goon" is also the name of a diaper brand in neighboring Japan.)
Since the mistake has been widely pointed out online in China recently, the Metro has been quoted as saying this is something the subway line hopes to improve. However, I dunno, I kind of like these "GOON" arrows. Heck knows when I'm in a crowded train station, I always feel like I'm surrounded by goons.
武汉地铁英语标识差错频出 往前走被翻译成笨蛋 [News QQ]
To contact the author of this post, write to bashcraftATkotaku.com or find him on Twitter @Brian_Ashcraft.
Kotaku East is your slice of Asian internet culture, bringing you the latest talking points from Japan, Korea, China and beyond. Tune in every morning from 4am to 8am.