The Castlevania movie might have had a stake rammed through its heart earlier this spring, but the project is showing signs of life.
Saw franchise co-creator and director of Dead Silence and Death Sentence, James Wan, has signed on to co-write and helm the flick.
Previously, Stomp The Yard director Sylvain White was pegged to direct. and salty-tongued writer Warren Ellis was at one time working on the script.
G/O Media may get a commission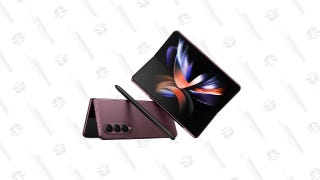 Save Up to $300
Galaxy Z Fold4
"I'm very fresh on this project, so its early stages and I'm still trying to work things out, but the producers love my vision for it," James Wan tells website Bloody-Disgusting. "I'll be working on the script with a writer to give it a new spin, different to the previous versions. This will have my stamp on it which Konami is very excited about."
Wan is interested in how Konami took iconic Dracula mythos and mixed it with a Japanese pop-culture vibe. "That's the East-meets-West tone I want to visually expand on for the film," he continues. "I'm thrilled by the opportunity to make a highly stylized, fantasy, action film that focuses on the gothic story-line and the cool, anime-like characters. For once, the human hero is as sexy and dangerous as the vampire villain, and his weapon of choice was what attracted me to the project in the first place — The Vampire Killer Whip." Good news for fans of the franchise. Earlier drafts of the script had the whip replaced with a sword.
The Australian filmmaker is no stranger to video games — he directed a trailer for horror game Dead Space. Above is concept art for his vision of Castlevania.
BD Horror News - SDCC '09: James Wan to Write and Direct 'Castlevania'! [Bloody Disgusting via GoNintendo]