The Western release of Capcom's We Love Golf! for the Nintendo Wii approaches, and with two exclusive characters in the release, Capcom had to come up with two special Capcom classic-inspired costumes for each one, so they decided to let the players choose.
Out of a field hat contained choices such as Roll Caskett from Mega Man Legends and Captain Commando (my choices), the votes came out in favor of Morrigan from the Dark Stalkers series and Ken from Street Fighter. Morrigan will be portrayed by the lovely Stephanie, while Mark will don a red gi and blond locks, becoming the first African-American Ken Masters.
It may look a bit odd to you, but I used to have a black friend who dressed up as Ken for anime conventions, so these screens just bring back fond memories.
G/O Media may get a commission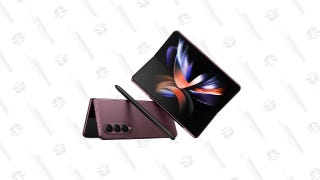 Save Up to $300
Galaxy Z Fold4
We Love Golf! Exclusive Character and Costume Revealed!

The fans asked for it and so they shall receive
Hi guys,

We Love Golf!'s release is steadily approaching soon and in addition to the Wii-tastic golf action, one of the really fun things about We Love Golf is the alternate Capcom costumes for the characters. When we heard the team was adding two new characters for the upcoming Western release of the game, we asked "why not ask our fans to pick their alternate costumes?"

As it turns out, everybody at Capcom had lots of extremely good reasons why this was a terrible idea. But then we did it anyway!

For the female character, your choices for the alternate costumes were Cammy (Street Fighter), Morrigan (Darkstalkers), Rouge (Power Stone), Roll Caskett (Mega Man Legends), and Ashley Graham (Resident Evil). For the men, the options were Frank West (Dead Rising), Balrog (Street Fighter boxer), Guy (Final Fight), Ken (Street Fighter), Dhalsim (Street Fighter), and Captain Commando (from, um, Captain Commando).

Today we're proud to announce the fans' choices: Darkstalkers' own Morrigan, and Street Fighter's Ken! Morrigan's outfit is available as Stephanie's alternate costume, and you'll find Ken's red gi on Mark, giving us our first African-American incarnation of Ken Masters!

Thanks to everyone who voted for making this a ton of fun and adding some great surprises to the game.

Cheers,
Tim and the Capcom PR team