Capcom announced today that it has banned fighting game competitor Noel Brown from the Capcom Pro Tour's 2016 season, due to "unwarranted and unwanted" touching of a woman at a recent fighting game tournament. He's also been banned from EVO 2016.
These Great Fortnite Creative Maps Show Us What's Possible
In a video of the during the live stream before the Street Fighter V Losers Finals match, Brown appears to be tapping a woman on the butt when she's not looking. The incident took place at Combo Breaker in Chicago, IL last week and swiftly drew the ire of tournament organizer Rick 'The Hadou' Thiher chastised a then-unnamed player for "knowing you couldn't behave during an attendee camaraderie photo."
Brown did not have a meaningful placement in the tournament, according to the results.
G/O Media may get a commission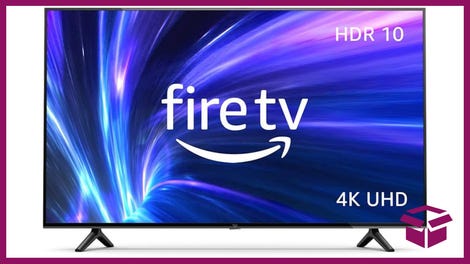 42% Off
Amazon Fire TV 50" 4K Smart TV
Not long after Combo Breaker, the tournament announced Brown's banning from events in both 2017 and 2018. The organization will reportedly "re-evaluate Mr. Brown's eligibility" in 2018.
Brown did not respond to my request for comment, but earlier this week, Brown posted a series of text messages on Facebook he claimed were between himself and the woman he touched. They appeared to indicate that the two were friendly, had known each other, and spoke after the incident.
"I'm used to staying shut but now I'm done being this monger of hate," he said on Twitter.
Those posts were quickly taken down, but he thanked those who "actually took the time to read and understand."
None of this seemed to dissuade Capcom from their decision.
"We have worked closely with the tournament organizer of Combo Breaker to gather all details surrounding the incident," said Capcom in a statement. "We have found that the victim, who wishes not to be named, has gone on record and confirmed this was an inappropriate act from Noel Brown and was not consensual."
Capcom dubbed this a first time offense that, as stated, only bans him from this year's activities. However, a second offense will result in a lifetime ban from "all future Capcom Pro events."
The penalties leveraged against Brown are now a standard for Capcom, the company said. (This would suggest there were no standards to begin with.)
"We do not condone any acts of harassment," said the company, "and we want all of our players and fans to know we will continue our work to ensure that all Capcom Pro Tour events provide safe, inviting environments where the focus is on healthy competition and exciting rivalries."
An article on Shoryuken also includes a statement from EVO, the fighting game community's biggest annual tournament. EVO backed up Capcom's decision, but only said it was banning Brown from attending EVO 2016.