Only the biggest Nintendo fan could name all the Kirbys featured on the back cover of a special booklet that's packed in with copies of Nintendo's new Kirby's Dream Collection for the Wii.
The Collection comes out next week, but you can take the quiz now.
---
Here are all the Kirbys:
Try to name the game they're from (and the power on display, if you're feeling bold).
Kirby's Dream Collection features six old Kirby games (Kirby's Dream Land, Kirby's Adventure, Kirby's Dream Land 2, Kirby Super Star, Kirby's Dream Land 3, Kirby 64) on one disc to celebrate 20 years of this pink puffball. It's out next week and just might be Nintendo's final release for the Wii.
G/O Media may get a commission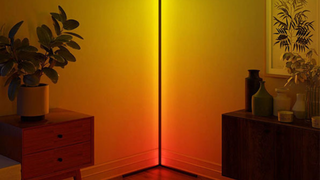 Save 60%
Minimalist LED Corner Floor Lamp