In 1975, a coin purse featuring an expressionless cat with its head turned sideways and sitting next to a fish bowl went on sale in Japan. The company was Sanrio. The designer was Yuko Yamaguchi. The cat became known as "Kitty-chan", and outside Japan as Hello Kitty. Decades later, is the cat still cute?
Hello Kitty might be a Japanese creation, but the character is supposed to be from London. She was given what Sanrio thought was a British name, Kitty White. Yet, even as Dutch illustrator Dick Bruna contested that Hello Kitty and her friends were Miffy knock-offs, the characters came to epitomize cute Japan.
As Hello Kitty became increasingly popular, Sanrio slapped her on stationary, erasers, pencils, and notebooks, coinciding with a trend at the time for young girls to purposely have childishly cute penmanship. The 1980s also saw the rise of the catgirls.
G/O Media may get a commission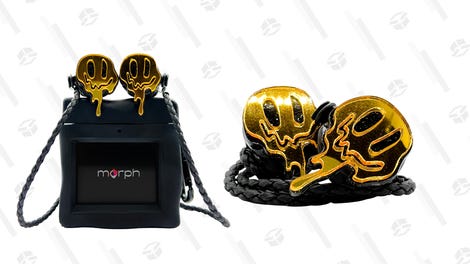 morph audio
Morph Earphones
Sanrio depended on branding to spread the character's popularity, hence Hello Kitty appearing on toilet paper, Swarovski jewelry, and the now infamous massage wand. The cat and her friends have appeared on over 50,000 products. But even though Sanrio has the rights to over 200 characters, the feeling is it relies way too much on Kitty-chan.
"We want to buy a character that won't harm Hello Kitty's image."
That's why the company tells Bloomberg that it wants to spend up to ¥30 billion (US$380 million) to buy the rights to another character, preferably a foreign character. This comes as Takara Tomy, who makes Transformers and Pokémon toys, recently snapped up the rights to Thomas the Tank Engine.
The rights to established characters rarely come up for sale, so pundits say it might just be faster for Sanrio to whip up a new character.
"We want to buy a character that won't harm Hello Kitty's image," said Sanrio's Susumu Emori. "Our overseas sales team is looking for deals." But what and who? Miffy?
Check out Hello Kitty images in the gallery, courtesy of Getty.
Culture Smash is a daily dose of things topical, interesting and sometimes even awesome—game related and beyond.
(Top photo: Mario Garcia | Getty)
A North Korean child wears a Hello Kitty hairpin. (Photo: Feng Li | Getty)

Detroit Tigers pitcher Adam Wilk carries a Helly Kitty backpack. (Photo: Ronald Martinez | Getty)

Hello Kitty nails at the Tokyo Nail Expo. (Photo: Junko Kimura | Getty)

A Sephora Hello Kitty Beauty Event held in Hawaii. (Photo: Marco Garcia | Getty)

Carrie Underwood's knee at the American Idol season finale. (Photo: Carrie Underwood | Getty)

A Hello Kitty shirt at the New York Sanrio shop. (Photo: Mario Tama | Getty)