Treyarch's latest entry in the Call of Duty series is a success, as official word notes that Call of Duty: World At War has racked up more than 11 million sales since its launch in November of 2008.
The game got off to a damn good start during the pre-Christmas season, selling more than 1.88 million units in its first month on sale, adding another 1.86 million sales the following month. Sales appear to have held pretty steady after that, averaging about 1.2 million copies of Call of Duty: World At War sold each month in 2009. None too shabby!
World At War's first downloadable map pack is also helping to pad the publisher's coffers, having been snapped up some 2 million times.
Clearly, Activision sees some worth in these crazy Call of Duty games, as the next iteration, Infinity Ward's more current Modern Warfare 2, is penciled in for a November 10th release. We're sure some Activision publishing executive is desperately hoping for a proper World War III to break out by 2011.
G/O Media may get a commission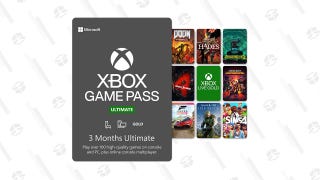 Save 11%
Xbox Game Pass Ultimate: 3-Month Membership
CoD:WaW Surpasses 11 Million Units! [Call of Duty: World At War HQ]