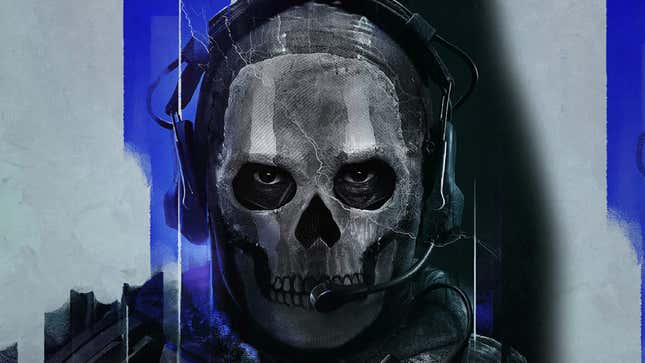 With the way 2022's Modern Warfare II's campaign ended and everything about Call of Duty's regular stream of releases, it hasn't been unreasonable to expect a follow-up game. But so far, the tea leaves on what to expect have been a little hard to read—that is, until today. According to some sources, we have the name and release date of MWII 2022's follow up.

A Foe From The Next Team Ninja Game Is Giving Me Sekiro PTSD
Read More: Let's Rank The Call Of Duty Games, From Worst To Best

Call of Duty's not-at-all confusing practice of modern games named after titles that came out in the early 2010s would reasonably suggest that Modern Warfare II's sequel would probably be named Modern Warfare III. But as of late 2022, Bloomberg's Jason Schreier said that the next full game wouldn't hit until 2024 and that Modern Warfare II (2022's CoD game) would get a shot in the arm via paid expansion developed by the folks at Sledgehammer Games. At the time, Schreier noted that it would just be "more MWII" and not a proper sequel. Enter Insider Gaming's meaty May 11 report that actually Modern Warfare III is on the horizon with a full release maybe expected as soon as the end of this year.
Insider Gaming's report differs a bit from Schreier's reporting from just a few months ago: Sledgehammer Games will be making this sequel, but instead of it just being a sizeable expansion, it's going to be a full-blown release.
[Update 7:55pm ET: Schreier updated in February 2023 that it was now expected to be a full Modern Warfare game]
According to Insider Gaming's sources, this release will land on November 10, 2023, with an early access period eight days earlier, and two beta weekends in October of 2023 (October 6 for PS4 and PS5, October 12 for PlayStation, Xbox, and PC). For what it's worth, these dates do historically match up with the typical CoD format for releases: A few beta weekends, then a full-blown launch.
This game will include a fully featured campaign, multiplayer, good 'ol zombies, and a new Warzone 2.0 map along with the expected seasonal model kicking off in December of this year. There's no indication that Warzone will receive a sequel, just a new map: Las Almas, which has been rumored to be the next site of virtual war crimes since November of last year.
Read More: The Red Cross Challenged Gamers To Not Commit War Crimes
It hasn't been easy figuring out what the next CoD experience is likely to be, but if Insider Gaming's sources are to be believed, we may be finding out what the hell a Makarov is (I thought it was a fish, for the record).