I'm not sure what's going on. This is probably the third romance related stunt to happen in China in recent weeks. What makes this one special though, is that it involves a "Cactuar" in the middle of Beijing.
The Week In Games: Fishing For Mysteries And Gang Wars
Tencent News reports that last Thursday in the Shijingshan district of Beijing, a masked man dressed in a green body suit proposed to a young woman in a shopping mall.
The man, who remained masked during the whole affair presented a young woman with a bouquet of flowers and a fancy speech. A fancy speech about Final Fantasy.
"You always said that I'm not romantic, that I don't care for you. Please forgive me! Do you know how excited I am right now? I'm very scared, I waited a long time for this. You might think this costume is strange but did you know Cactuars always strive for love? Looking back at the time, I've loved you since Final Fantasy VII, and now we're all the way up to Final Fantasy XIV. It's been so long, and I've never had another in my eyes. I finally the courage to say this: Min Min, will you marry me?!"
G/O Media may get a commission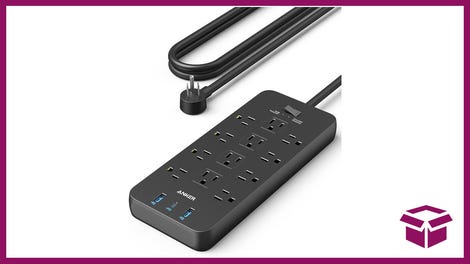 28% Off
Anker Power Strip Surge Protector
The whole affair was captured by various passersby with video appearing online. There's also a video that appears to have been taken by a friend that shows the whole proceeding.
Chinese netizens are both doting and nitpicking this story. Some find it romantic; netizen
"萨菲罗斯" wrote that this "Cactauar" must've pined for this woman for at least 14 years since Final Fantasy VII came out in 1997.
Like in the West, Final Fantasy VII was extremely popular in China. Famous game maker Jenova Chen chose his English name from a character in the game.
Netizen "炒作的都去死" points out that this whole affair could be a massive stunt for the upcoming release of Final Fantasy XIV in China. The game, operated by 9You games in China, will have a public beta on August 25.
A reporter from the State-owned China.com was able to track down the couple. The man, surnamed Wu, says the whole event wasn't a publicity stunt. He says that he first played Final Fantasy VII when he was 12, the same time he met 10-year-old Min Min. He says that when they got older, they started to develop a relationship. A few years ago, Wu says he purchased a PS3 for Min Min, she in turn purchased an HK copy of Final Fantasy XII.
This all sounds great! I'm a sucker for romantic endings.

仙人掌COS求婚男主角访谈:喜欢FF并非炒作 [China.com]
17年的追求 男子COS人形仙人掌求婚成功 [Tencent Games]
Kotaku East is your slice of Asian Internet culture, bringing you the latest talking points from Japan, Korea, China and beyond. Tune in every morning from 4am to 8am.
Eric is a Beijing based writer and all around FAT man. You can contact him @FatAsianTechie@gmail.com or follow him on Twitter @FatAsianTechie