Game creator Jonathan Blow is best known for developing 2008 indie hit Braid, and perhaps second-best known for his prickly views on games and the game industry. He aims to be profound with his games, and hopes that his next project, The Witness, can proudly stand in the "games are art" column.
The May, 2012 issue of The Atlantic, available online, features a lengthy profile of Blow from writer Taylor Clark. In it, Blow discusses what he accomplished with Braid, what he plans to do with The Witness, and how he feels about the state of the modern video game in general (not positively). "As harsh as Blow can be toward his industry," Clark writes, "he applies even stricter standards to his own work." He continues:
With The Witness, produced with about $2 million of his own money, [Blow] plans to do nothing less than establish the video game as an art form-a medium capable of producing something far richer and more meaningful than the brain-dead digital toys currently on offer. Blow envisions future games that deliver experiences as poignant and sublime as those found through literature and film, but expressed in ways distinctive to games.

"If the video game is going to be used for art purposes, then it has to take advantage of its form in some way particular to that medium, right?" he told me. "A film and a novel can both do linear storytelling, but novels are very strong at internal mental machinations - which movies suck at - and movies are great at doing certain visual things. So the question is: Where are games on that same map?" It's a question Blow intends to answer.
He later adds:
"The de facto reference for a video game is a shitty action movie," Blow said during a conversation in Chris Hecker's dining room one sunny afternoon. "You're not trying to make a game like Citizen Kane; you're trying to make Bad Boys 2." But questions of movie taste notwithstanding, the notion that gaming would even attempt to ape film troubles Blow. As Hecker explained it: "Look, film didn't get to be film by trying to be theater. First, they had to figure out the things they could do that theater couldn't, like moving the camera around and editing out of sequence-and only then did film come into its own."
G/O Media may get a commission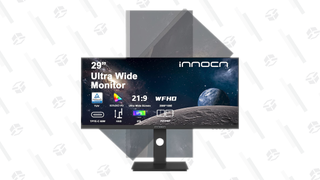 39% Off
Innocn 29" Ultrawide Computer Monitor
Whether Braid is the only authored, intelligent work of video game art worth consuming out there, as Clark repeatedly asserts, is up for debate. (Personally, I disagree.) But it is true that many games produced and sold every year have a kind of sameness to them. Jonathan Blow is trying to do something different with The Witness, as he did once before, and every game that adds more variety to what we consider the world of gaming to be is a good thing.
Whether or not The Witness ends up being a masterpiece, Blow eloquently summarized the indie and experimental game design he and others do:
People like us who are doing something a little different from the mainstream have each picked one direction that we strike out in into the desert, but we're still not very far from camp. There's just a huge amount of territory to explore out there-and until you have a map of that, nobody can say what games can do.
The Most Dangerous Gamer [The Atlantic]