Some rivalries are played before sellout crowds, primetime exposure and adoring nationwide coverage. Others finish past midnight with a couple dozen disinterested people left in the bleachers and only two more watching on the TV.
The latter would be the final audience for Chewblaha and his Cubs vs. Mike Dukakis' Mets in a 12-inning affair at Wrigley Field played this week on MLB 10 The Show. Check out Duke's recap video. I've seen more people at Thursday night A's game the week before unemployment checks arrive.
But Kotaku Box Scores needed a Game of the Week and Duke and Chewie came to the rescue (hint hint, everyone.) Cub hitters roughed up Johan Santana for an early two-run lead and Chicago's Ted Lilly no hit the Mets into the sixth before giving up a three run bomb to David Wright, giving control to the Mets, 3-2.
In the seventh, Alfonso Soriano whacked a solo kong to tie the score. New York plated one in the top of the eighth but Chicago rallied to tie when Marlon "I Hit Like a Wayans Brother" Byrd drove home Derek Lee to knot things at four, although Geovany Soto hit into a double play to kill Chicago's rally.
Beer sales had been discontinued in the seventh, so the Wrigley crowd understandably filtered out in search of Old Style as matters sat unresolved for four innings. Carlos Zambrano, working into his fourth inning of relief, gave up two hits in the 12th before Chewy replaced him with Carlos Marmol. With two outs, Rod Barajas belted a three-run bomb into the vicinity of seven placid bleacher patrons apparently doing Sudoku at 1 a.m. on a school night. (See video above.) Chicago went meekly in the 12th to fall six games below .500.
G/O Media may get a commission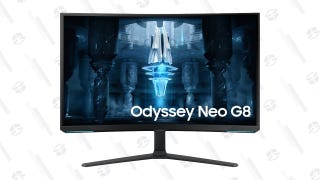 Samsung 32" Odyssey Neo G8 Curved Gaming Monitor
That's Kotaku Box Scores' Game of the Week. Gang, I'm not kidding, I want yours. I know you're playing them, too. Any sports title, any year, any opponent. Team sports, individual sports, boxing, MMA, NASCAR, fucking World Poker Tour, I'll take it. Hell, I'll lay a Buddy Ryan bounty if someone wants to dust off NFL 2K5 on the PS2. Just make sure you don't click away the postgame screen - snap a cell phone pic of it, write up two paragraphs and send it to owenATkotakuDOTcom. I'll make you famous, swear.
With that, let's throw it to an open-thread sports discussion. Los Angeles and Boston meet for game two of the NBA Finals; Philadelphia has rallied to make the Stanley Cup Finals a fight; the French Open wraps up on Sunday, and though Secretariat's not walking through that door, The Belmont Stakes will run Saturday.
(All times are U.S. Eastern:)
Tennis
Today, Italy's Francesca Schiavone already defeated Australia's Samantha Stosur in the women's final of the French Open. Sunday pits Spain's Rafael Nadal against Sweden's Robin Soderling in the men's final. Soderling eliminated Roger Federer this year (ending the Swiss Mister's unbelievable streak of 23 Grand Slam semifinal appearances), and last year stopped Nadal's 38-match French Open winning streak in the fourth round. Also on tape delay beginning at noon, NBC.
Thoroughbred Racing
Even if horse racing hasn't had one since 1978, The Belmont has lately been the scene of a potential Triple Crown victory (four of the past nine Stakes). But Saturday, it won't even see the Kentucky Derby or Preakness winner in its field. Ice Box is the 3-1 favorite in the mile-and-a-half grind, ABC at 5 p.m.


NHL
NBC has the Flyers and Blackhawks roughousing at the Madhouse on Madison, in Game Five of the Stanley Cup finals, Sunday at 8 p.m. The series is tied at two apiece.
NBA
The Lakers and Celtics playing for stakes in June always means big ratings, regardless of how droopy Boston's performance was in Game One. The Cs seek to right the ship at Staples Center on Sunday, tipoff is 8 p.m. on ABC.
MLB
Fox's game of the week on Saturday is Florida at the Mets, Milwaukee at St. Louis, or the Angels at Seattle, 4 p.m., check local listings. If you get WGN, catch the Indians and the White Sox at 7.

On Sunday, TBS gives you the Yankees at Toronto at 1; WGN has the Cubs at Houston at 2 p.m., and Milwaukee-St Louis is ESPN's Sunday Night Game of the Week at 8.
Motorsports
NASCAR runs up at Pocono Raceway with the Gillette Fusion ProGlide 500, Sunday at 1 p.m. on TNT.


Remember, send all Game of the Week nominations to owenATkotakuDOTcom, and flag it "Game of the Week" in the subject header. Please include your commenter handle for proper credit.