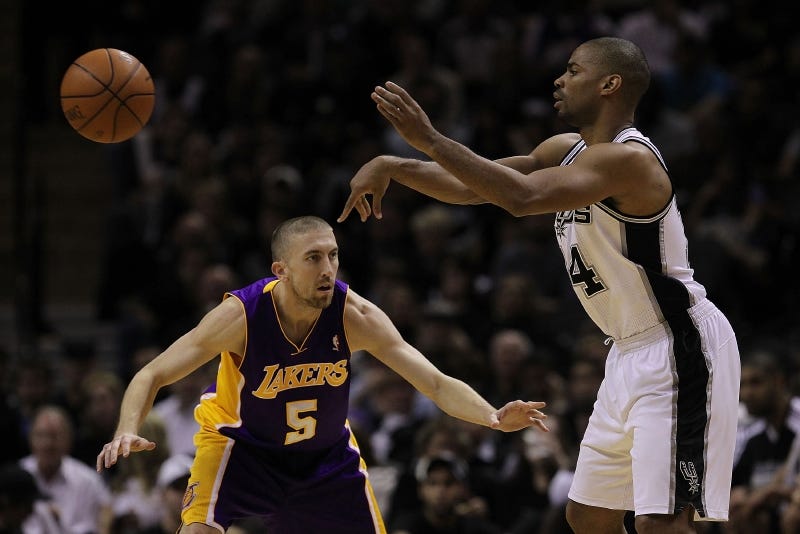 Word to the wise: If you're playing a ranked match of NBA 2K11, leading by two with less than a minute left, and your opponent calls timeout to bring in someone you've never heard of, good chance he's the shooter.
Whomever had the Lakers against Kotaku reader Mobile Vulgus' San Antonio Spurs learned that the hard way. Vulgus, a bigtime Spurs fan, had had enough of facing the Heat and was spoiling for a chance at the defending champs in ranked play, finally getting it last weekend.
Trailing three at the half, the Spurs opened the third quarter with 17 straight points, 10 coming from Tim Duncan. But in the fourth quarter, the Lakers, led by Kobe Bryant, shot off on an 11-0 run to take a six-point lead with two minutes left.
The two sides traded three-point baskets from Manu Ginobili and Bryant to make it 41-39 Lakers. That's when Vulgus channeled his inner Gregg Popovich. "Calling a timeout, I put my shooters in going with a line up of George Hill, Gary Neal, Ginobili, Duncan, and Matt Bonner," Vulgus writes. "It paid off, as I threw the ball down low to Duncan who, after the ensuing double team, kicked it out to a wide open Neal in the corner who knocked down the timely trey. My opponent probably didn't know who Gary Neal was before this game, but I bet he does now."
I bet he does, indeed. A couple free throws from Ginobili provided the final margin in Kotaku's game of the week. Here's the box score!
Remember, all you have to do to get yourself featured in Box Scores' Game of the Week is take a picture of whatever you've been playing - crappy cell picture will do - write up a couple sentences about why it was so compelling, and email it to me, owenATkotakuDOTcom, with "Box Scores" in the subject header. I will star all submitters, regardless of whether they are published. So be sure to include include your commenter handle, or your commenter page URL if it is different from your handle.
Now the Kotaku Sports open thread commences with the sports TV highlights for today and tomorrow. All times are U.S. Eastern.
NFL
If you just got back from planet Zantrar V, tomorrow are the conference championships. The Packers and Bears tee it up from Soldier Field at 3 p.m. on Fox; the Jets and Steelers battle it out in Pittsburgh on CBS at 6:30. Then we wait two weeks for the Super Bowl.
College Hoops
Speaking of ranked matches, we have plenty today. No. 1 Ohio State and No. 23 Illinois (on CBS) and No. 7 Villanova and No. 3 Syracuse (on ESPN) both tipped off an hour ago. No. 10 Texas is at No. 2 Kansas at 4 p.m. and No. 17 Michigan State visits No. 14 Purdue at 9 on ESPN. Another game of note: Tennessee coach Bruce Pearl is let out of the penalty box for a nonconference tilt against No. 8 Connecticut at 2 on CBS. Then he goes back to the slammer to serve a suspension for lying to The Man.
Tennis
Live coverage of the Australian Open, the year's first grand slam event, continues on ESPN2 today and tomorrow. Check your local listings.
College Football
One last chance to hear college football announcers talk about keeping your head on a swivel out in space. The East-West Shrine Game, an all-star contest showcasing a lot of draft prospects, is on the NFL Network at 4 p.m.
Mixed Martial Arts
UFC Fight for the Troops 2, from Fort Hood, is on Spike at 9 p.m.
NBA
Why you'd want to watch Cleveland get its shit packed at Chicago, I have no idea, but that's on WGN at 8. All other games are regional, with the Spurs and Hornets the best and a Knicks-Thunder matchup that's intriguing. Both are 8 p.m.
NHL
Blackhawks and Red Wings are an Original Six meeting at 2 p.m. on WGN; the CBC's games are Washington at Toronto in a battle of our nations' capitals (Toronto is Canada's capital, right? Right? Whatever, it should be) or Anaheim at Montreal at 7 p.m. Calgary at Vancouver is the 10 p.m. game.
Remember, you may send Game of the Week nominations to owenATkotakuDOTcom, and flag it "Box Scores" in the subject header. Please include your commenter handle for proper credit.


[Top image by Getty Images]