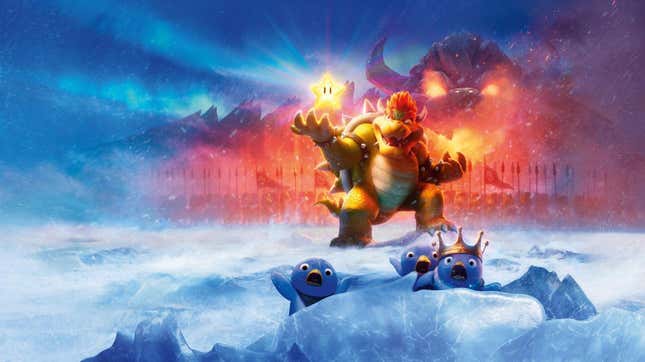 The Super Mario Bros. Movie is faced with the gargantuan task of making a coherent plot out of characters and concepts that have mostly been blank slates over the series' lifetime. While the movie might not be everyone's cup of tea, I had a lot of fun watching the film portray Mario as a run-down plumber trying to make it in Brooklyn and Donkey Kong as an angsty son desperately seeking his father's approval. But the character that easily was the most inspired was Jack Black's Bowser, and I was absolutely infatuated with him during the movie's brisk run time.

What You Should Know About Mario Strikers' Big Free Update
Spoilers for The Super Mario Bros. Movie follow.
Bowser is so conceptually silly that I feel like he was the character that could have easily fallen into unlikeable territory when he was made into a complete character in the movie. A fire-breathing turtle who kidnaps the local monarch in order to marry her is fraught territory, as you risk him coming off as predatory and uncomfortable. The movie villainizes this, of course, but it also leans so hard into the absurdity of Bowser's motivation that the king of the Koopas comes off as a pathetic, lovesick man. And, god, it works so well.
Bowser's lack of self-seriousness and the movie's willingness to lean into how stupid this guy's plan is makes for some of the movie's funniest comedic moments. From the moment he explains his plan to his henchmen, it's clear the movie is poking fun at the series' long-time baddie. He tells his army he plans to present a Super Star, an item that normally makes you invincible for a short period of time in the games, that he stole to Princess Peach and ask her hand in marriage. His plan doesn't go any further than that, and when one of his lackeys points out the distinct and likely possibility Peach won't be receptive to his advances, he gets a flamethrower to the face.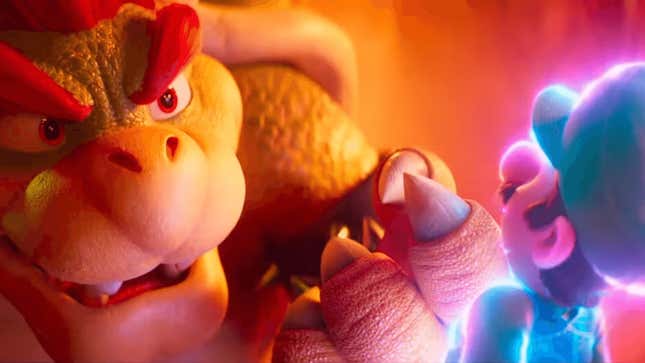 Throughout the movie, Bowser is shown to be a delusional, jealous little shit. Some of the best gags in the movie are his repeated, misguided rehearsals for asking Peach's hand in marriage, complete with offering her piranha plants that would definitely eat her and having one of his men dress up as Peach to really help him get into character. Nathan Fielder of The Rehersal would be proud, but he would immediately lose that sense of pride during the scenes where Bowser's hears Peach is traveling around with a handsome, mysterious, mustached plumber. The movie also gives full context to scenes heavily featured in the trailers, like the moment Bowser tortures Luigi.. In marketing, this scene was made to look like Bowser feared Mario was a threat to his plans to conquer the Mushroom Kingdom, when in reality, he's scared Mario's after the girl he likes, and is bumbling through these fears throughout the movie like an incompetent fool unable to keep his emotions in check.

As most probably guessed from the movie's marketing, Black's performance is easily the best of the bunch. Black handles the silliness of Bowser's arc with a pitch-perfect delivery. The Tenacious D singer also gets to show off his musical talent, as Bowser performs a piano-driven love song for Peach called "Peaches" that is, unfortunately, not on streaming services like Spotify until tomorrow, April 7. However, it is on the physical soundtrack that just went up for pre-sale on iam8bit. I have to admire the movie and Black's commitment to the bit here.
While Bowser is defeated by the end of the movie and is still singing about his lost love while imprisoned by Peach and Mario, I can't imagine he won't still be a major player in the sequel the movie teases in the post-credits scene. I was pleasantly surprised by the Mario movie's play on these classic characters who haven't really felt like people in most of their appearances, but Black's Bowser is undoubtedly the best example of it riffing on a simple character concept and stretching it out for a feature-length film. Down bad Bowser is best Bowser, and I can't wait to see more of him in the next movie.