Boston's 3-1 win last night against the Los Angeles Gladitaors secured a new record in the Overwatch League. Across five weeks and 10 games, the Boston Uprising won every single one and claimed the league's first perfect stage, weathering some big storms in the process.
Prior to stage 3, Boston sat squarely in the middle of the league, finishing both stage 1 and 2 at 6th place. The team had talent, could get some upsets, but wasn't the squad it is now. Even at the outset of the league, some analysts painted them as a lower-tier team, made up of players who didn't have much competitive experience going into the league.
The breakout start to the stage was largely attributed to Jonathan "DreamKazper" Sanchez, who initially made a name for himself as a flexible DPS player. At the start of April, two underage women came forward with allegations that he pursued a romantic, potentially sexual relationship with them. The Uprising soon dropped him from the roster, and he was suspended from the league until further notice.
Speculation arose about what Boston would look like post-DreamKazper. Stanislav "Mistakes" Danilov, his replacement, was a solid player, but it all felt murky. Reddit threads on Boston's prospects for the rest of the season were not confident nor hopeful.
Boston showed, over the course of the next few weeks, that it didn't need one star to win games. While Danilov was no slouch, the rest of the team stepped up admirably. Kwon "Striker" Nam-joo continued to be one of the league's most underrated DPS players, shining on Tracer across every map. Noh "Gamsu" Young-jin was a stalwart base for the team, its main tank and quiet hero in several fights. Well, in some cases, not so quiet.
G/O Media may get a commission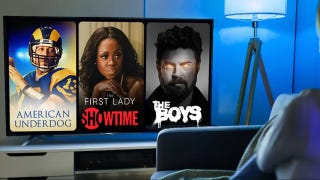 UNDER $1
99¢ Prime Video Channels
As for Mistakes? While he wasn't quite Pine, Mistakes found clipworthy moments in his own way. In an interview with Akshon Esports, Boston's Lucas "NotE" Meissner said that putting Mistakes in the lineup was "plug and play." Still, I'd be remiss to not point out this moment where he takes down the Gladiators' Pharah as a Junkrat.
Boston is a resilient team. Five of their 10 wins were 3-2. Either they always play close games, or they can just show up when it matters the most. A little column A, a little column B. But the growth this team has experienced over the past few months and especially weeks is exponential. The Uprising went from being an average team, to being the team to beat.
Heading into the playoffs tomorrow, Boston retains the top spot in the stage and will get their pick of the field for a semifinal opponent in the stage 3 playoffs. What happens next is in their hands, but given their journey so far, I would not be surprised to see their name emblazoned on a stage 3 title.
Compete is Deadspin and Kotaku's joint site dedicated to competitive gaming.