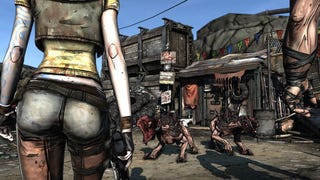 The speculation that Borderlands would ship in October turns out to be good. It releases for all three consoles on Oct. 20 in the U.S., Oct. 23 in the U.K. Europe and Australia, GameSpot reports.
Christoph Hartmann, the president of 2K Games, said his shop has no problem taking a new IP up against Uncharted 2 and others in a packed October release window.
"I think this holiday season is a little bit lighter in triple-A games than last year. It's actually a good holiday to put something out," he told GameSpot. "There's always risk and opportunity. The risk is you have a hard time standing out against established IP. The opportunity is you have a lot of traffic here and it can be a much bigger product at retail than it would be otherwise."
Borderlands hits a superfecta of buzz terms in its thumbnail description - cel-shaded, open world, post-apocalyptic role-playing shooter - and has been highly anticipated since first announced roughly two years ago.
Borderlands Lands Oct. 20 [GameSpot]