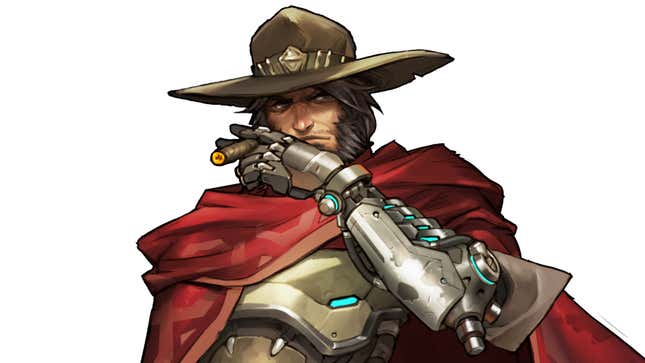 Blizzard announced today on Twitter that it will be renaming Jesse McCree and delaying the start of Overwatch's next story arc. The change comes after the real-life developer for whom the cowboy character was named was let go from the company amid ongoing fallout from a California lawsuit accusing the company of widespread sexual harassment and discrimination.

Grand Theft Auto 6 Comments: A Dramatic Reading
"We built the Overwatch universe around the idea that inclusivity, equity, and hope are the building blocks of a better future," the development team wrote in a statement. "As we continue to discuss how we best live up to our values and to demonstrate our commitment to creating a game world that reflects them, we believe it's necessary to change the name of the hero currently known as McCree to something that better represents what Overwatch stands for."
Blizzard had previously planned to launch a new narrative arc in Overwatch in September, but because McCree played a key role in it, the content has been delayed until later in the year. A new FFA map will be added to the game in the meantime.
G/O Media may get a commission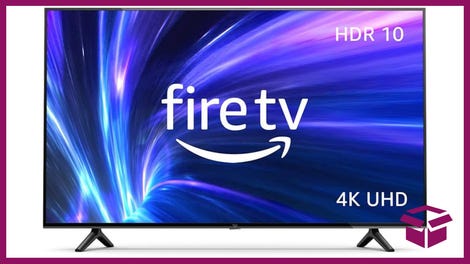 42% Off
Amazon Fire TV 50" 4K Smart TV
"Going forward, in-game characters will no longer be named after real employees and we will be more thoughtful and discerning about adding real world references in future Overwatch content," the team wrote.
McCree was originally named after longtime Blizzard designer Jesse McCree. But Blizzard faced growing calls to rename the character after a Kotaku report surfaced old Facebook images showing McCree posing with other Blizzard staff in front of a giant portrait of Bill Cosby at a BlizzCon 2013 hotel room nicknamed the "Cosby Suite." The images also included a text chat in which World of Warcraft designer Alex Afrasiabi wrote about marrying women that were being brought back to the room. "You misspelled fuck," McCree wrote back. Afrasiabi is one developer named in a California lawsuit that accuses him of serially sexually harassing female coworkers.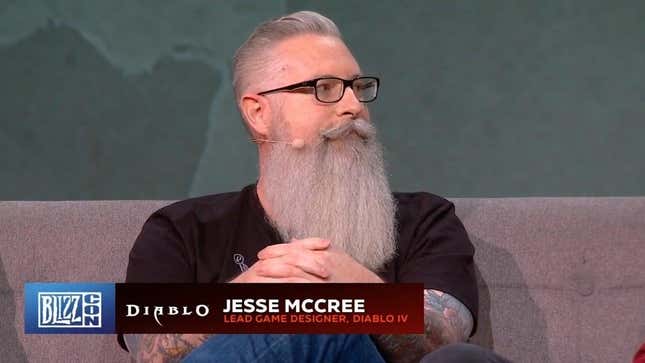 Afrasiabi was terminated from Blizzard last year for "misconduct." But it wasn't until the lawsuit made allegations against him public and a fan backlash ensued that the company began removing references to him from World of Warcraft. The changes were made to "rebuild trust" with the game's community in the wake of the lawsuit.
McCree was most recently a designer on Diablo 4. But two weeks ago Activision Blizzard confirmed he was no longer employed at the company, along with game director Luis Barriga and World of Warcraft designer Jonathan LeCraft. LeCraft was also pictured in the Cosby Suite. Barriga has not been named in any of the current allegations against the company.
"We have a deep, talented roster of developers already in place and new leaders have been assigned where appropriate," a spokesperson for Activision Blizzard said at the time. "We are confident in our ability to continue progress, deliver amazing experiences to our players, and move forward to ensure a safe, productive work environment for all." No reason for the departures was given.
Even before today's announcement, some in the Overwatch community had stopped using McCree's name in reference to the character. Overwatch League casters Brennon 'Bren' Hook and Josh 'Sideshow' Wilkinson stopped using it during live broadcasts earlier this month and stated it was a personal choice.
Update, 8/26/21, 4:43 p.m. ET: The Washington Post reports that references to McCree, Barriga, and LeCraft that are still currently in World of Warcraft will be removed as well.
"We can confirm that those references in World of Warcraft will be removed," a spokesperson for Activision Blizzard said in a statement to the Post.
Update, 8/26/21, 6:07 p.m. ET: "We will be reviewing the real-world references currently used in our games and making decisions based on how they best represent core values for our games," a spokesperson for Blizzard told Kotaku when asked why references to Barriga and LeCraft were also being removed.