Every year, Time magazine rounds up what they call "The TIME 100," a list of the most influential personalities of the year. In many ways the round-up is simply a rogue's gallery of "here's who you probably heard of recently," but the list is an interesting way to track what seems to be taking precedence in the national consciousness.
Prominent figures in games and gaming culture have appeared on the list before, with Nintendo's Shigeru Miyamoto receiving nods in 2007 and 2008, and Penny Arcade creators Jerry Holkins and Mike Krahulik making the list in 2010.
The 2012 nominations are out. And in among all of the politicians, entertainers, scientists, and athletes, there are two men well known in game circles. One is Ken Levine, of BioShock fame. The other is Mark Pincus, co-founder and CEO of casual gaming juggernaut Zynga.
Levine and Pincus represent almost completely opposed poles of the gaming world, with Levine known for narrative, artistic, big-budget first-person games and Pincus known for dominating the mobile and Facebook gaming world with ruthless business practices. And that contrast, right there, seems to capture the current state of gaming in a nutshell.
G/O Media may get a commission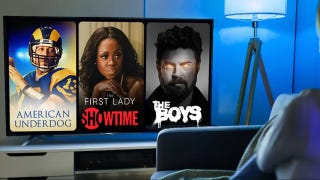 UNDER $1
99¢ Prime Video Channels
So is one of them more influential than the other? Does either belong on the list? Do both? The internet has until April 6 to cast its vote.
The 2012 TIME 100 Poll [Time]
(Top photo: Flickr user onourownpath.com)