Shocking, I guess, because I was going to try to go all the way to this year's Tokyo Game Show without getting a haircut. I...did not make it. But I got a shave! And honestly, that's all that counts.
These Great Fortnite Creative Maps Show Us What's Possible
---
The Battlestar Galactica Game Is Still Spooling Its FTL Drives Earlier this week, the new Battlestar Galactica game went into open beta. Being a massive BSG fan, I figured I'd jump right in and see how it was shaping up.
G/O Media may get a commission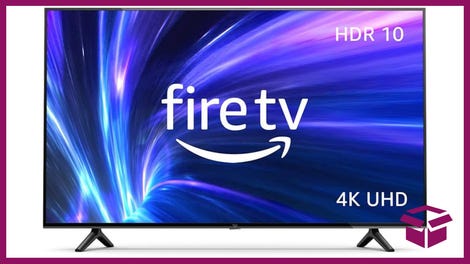 42% Off
Amazon Fire TV 50" 4K Smart TV
---
What The Hell Is Uncharted's Movie Director Talking About? Hollywood is making an Uncharted movie. It could star Mark Wahlberg, Robert DeNiro and even Joe Pesci as a family of treasure hunters. This makes us wonder, has the movie's unlikely director, David O. Russell, even played Uncharted?
---
How FOX News Gets Video Games So Wrong Yesterday, FOX News ran a story on Bulletstorm and got pretty much everything wrong. That's not the real story, though. They real story is how they got everything wrong: they did it on purpose.
---
Rest In Peace, Guitar Hero Today, publisher Activision put the Guitar Hero franchise on hold. Maybe forever. For a series that once threatened to become the biggest thing video games had ever seen, it was quite an inglorious end.
---
A Motion Control Master Shows The NES's U-Force Wasn't So Useless We recently took issue with Brøderbund's video game controller that required no physical contact, the U-Force. This forgettable, flaky Nintendo Entertainment System controller, almost universally despised, has been mastered by one man, who uses his U-Force with rare mastery.
---