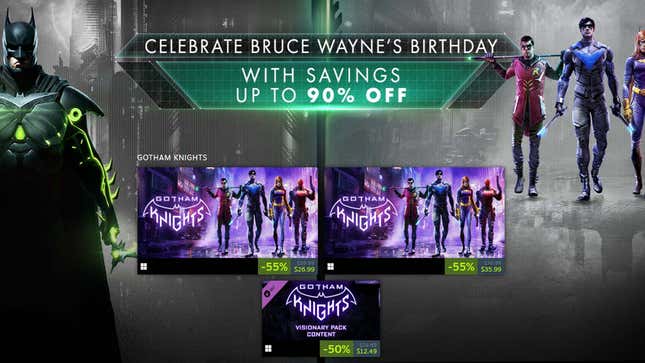 Bruce Wayne, aka Batman (don't tell anybody that secret, okay), is a person just like the rest of us. This means, just like you, he has a birthday, and in honor of his upcoming b-day, WB Games is advertising a big sale on…Gotham Knights. You know, the game where Batman dies in the first 20 minutes and you don't actually play as him at all. Huh.
The Week In Games: New Tales From Gotham And The Borderlands
If you are wondering: Batman/Bruce Wayne's in-universe birthday is officially February 19. Or is it? If you do even a light amount of internet searching, you'll quickly discover that there have been a few different dates given for the superhero's b-day, including days in April, June, and October. However, in recent years, DC and Warner Bros seem to have settled on February 19 as the real and official birthday of Gotham's caped crusader. Bats must be bummed that he's down to one birthday again; he was probably drowning in parties and presents for a while there.

Anyway, with February 19 fast approaching, WB Games and DC are celebrating the Dark Knight's birthday with a large sale on Steam. And to advertise this sale they've plastered the store with ads wishing Bruce a happy birthday while advertising a big discount on Gotham Knights aka the game that kills him right at the start.
To be fair to WB Games and DC, there are plenty of other Batman-related games and DLC on sale, too. So it's not just Gotham Knights being awkwardly discounted on what should be the Bat's celebratory weekend. Still, I wonder if anyone who isn't familiar with Gotham Knights is going to end up buying it, thinking it's a cool new Batman adventure, only to discover that it ain't at all that.

Here are some of the other games on sale during this birthday blowout, along with their normal Steam prices.
Batman: Arkham Collection - $9 ($60)
Batman: Arkham Origins - $5 ($20)
Batman: Arkham Origins Blackgate - Deluxe Edtion - $5 ($20)
Injustice 2 Legendary Edition - $9 ($60)
Lego Batman Trilogy Pack - $5 ($50)
Lego DC Super Villains - $6 ($40)
Scribblenauts Unmasked: A DC Comics Adventure $5 ($20)
And hey, Batman, maybe the best gift of all was that you got to skip Gotham Knights?