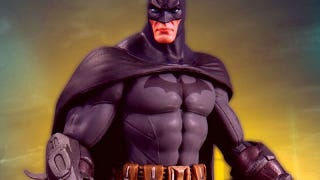 There are two kinds of Batman: Arkham City action figures. There are the standard ones, and there are the expensive ones. These are a new line of the standard ones, but before you let that put you off, some of them look pretty great.
DC Collectible's third series of Arkham City toys include six figures. Those six are Batman, Ra's Al Ghul, Azrael, The Penguin and two different models of the Joker's thugs.
Each stands around 6-7" tall (Penguin excepted), and they'll be out in September.
Batman: Arkham City Series 3 Figures [TNI]