Kotaku may have kicked off a fad last year, with our post on how to make your video game baseball presentation conform to real life broadcasting angles. MLB 2K11 directly cited the work as an inspiration behind its new broadcast presentation. MLB 11 The Show was assuredly thinking the same thing when it introduced realistic camera views into its game. So how do they look, side by side?
See for yourself in this gallery of all 30 Major League ballparks from both games. MLB 2K11's screens come from the Xbox 360 version of that game. MLB 11 The Show is, of course, a PS3 exclusive.

[Update] There were some strong complaints about the MLB 2K11 images being too dark. This is a limitation of my capture software, not of the game. The gallery has been updated with lightened images.
The realistic camera angles are the default setting, but are purely optional. You may change the view in your preferences (and some prefer to pitch with the ball coming toward you, a la RBI Baseball. Snobs like me, raised on Hardball!, do it this way.) You might want to keep that in mind as some angles make the strike zone smaller and more difficult to pinpoint, and others will actually have a pitcher obscuring part of the strike zone target (becoming transparent where he does).
G/O Media may get a commission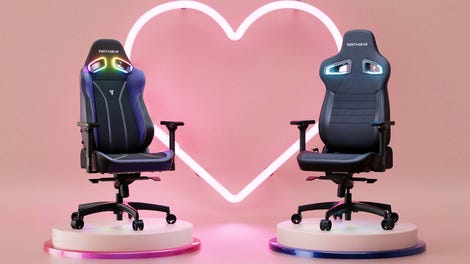 Up to $150 off
Vertagear Gaming Chairs
If you'd like to see the original gallery of camera angles I did, check this post from last year.
Designers at Visual Concepts, the studio behind MLB 2K11, said they wanted to use the camera angles for added realism, and also to give players a displacing feeling of being on the road if they were looking at unfamiliar visual information.
Given the work I did last year, you know, it doesn't really feel unfamiliar for me.
Los Angeles Angels (Angel Stadium), MLB 2K11

Los Angeles Angels (Angel Stadium), MLB 11 The Show

Houston Astros (Minute Maid Park), MLB 2K11

Houston Astros (Minute Maid Park), MLB 11 The Show

Oakland Athletics (Oakland-Alameda County Coliseum), MLB 2K11

Oakland Athletics (Oakland-Alameda County Coliseum), MLB 11 The Show

Toronto Blue Jays (Rogers Centre), MLB 2K11

Toronto Blue Jays (Rogers Centre), MLB 11 The Show

St. Louis Cardinals (Busch Stadium), MLB 2K11

St. Louis Cardinals (Busch Stadium), MLB 11 The Show

Atlanta Braves (Turner Field), MLB 2K11

Atlanta Braves (Turner Field), MLB 11 The Show

Milwaukee Brewers (Miller Park), MLB 2K11

Milwaukee Brewers (Miller Park), MLB 11 The Show

Chicago Cubs (Wrigley Field), MLB 2K11

Chicago Cubs (Wrigley Field), MLB 11 The Show

Arizona Diamondbacks (Chase Field), MLB 2K11

Arizona Diamondbacks (Chase Field), MLB 11 The Show

Los Angeles Dodgers (Dodger Stadium), MLB 2K11

Los Angeles Dodgers (Dodger Stadium), MLB 11 The Show

San Francisco Giants (AT&T Park), MLB 2K11

San Francisco Giants (AT&T Park), MLB 11 The Show

Cleveland Indians (Progressive Field), MLB 2K11

Cleveland Indians (Progressive Field), MLB 11 The Show

Seattle Mariners (Safeco Field), MLB 2K11

Seattle Mariners (Safeco Field), MLB 11 The Show

Florida Marlins (Sun Life Stadium), MLB 2K11

Florida Marlins (Sun Life Stadium), MLB 11 The Show

New York Mets (Citi Field), MLB 2K11

New York Mets (Citi Field), MLB 11 The Show

Washington Nationals (Nationals Park), MLB 2K11

Washington Nationals (Nationals Park), MLB 11 The Show

Baltimore Orioles (Camden Yards), MLB 2K11

Baltimore Orioles (Camden Yards), MLB 11 The Show

San Diego Padres (Petco Park), MLB 2K11

San Diego Padres (Petco Park), MLB 11 The Show

Philadelphia Phillies (Citizens Bank Park), MLB 2K11

Philadelphia Phillies (Citizens Bank Park), MLB 11 The Show

Pittsburgh Pirates (PNC Park), MLB 2K11

Pittsburgh Pirates (PNC Park), MLB 11 The Show

Texas Rangers (Rangers Ballpark), MLB 2K11

Texas Rangers (Rangers Ballpark), MLB 11 The Show

Tropicana Field, MLB 2K11

Tropicana Field, MLB 11 The Show

Cincinnati Reds (Great American Ballpark), MLB 2K11

Cincinnati Reds (Great American Ballpark), MLB 11 The Show

Boston Red Sox (Fenway Park), MLB 2K11

Boston Red Sox (Fenway Park), MLB 11 The Show

Colorado Rockies (Coors Field), MLB 2K11

Colorado Rockies (Coors Field), MLB 11 The Show

Kansas City Royals (Kauffman Stadium), MLB 2K11

Kansas City Royals (Kauffman Stadium), MLB 11 The Show

Detroit Tigers (Comerica Park), MLB 2K11

Detroit Tigers (Comerica Park), MLB 11 The Show

Minnesota Twins (Target Field), MLB 2K11

Minnesota Twins (Target Field), MLB 11 The Show

Chicago White Sox (U.S. Cellular Field), MLB 2K11

Chicago White Sox (U.S. Cellular Field), MLB 11 The Show

New York Yankees (Yankee Stadium), MLB 2K11

New York Yankees (Yankee Stadium), MLB 11 The Show