After the Australian Classification Review Board first refused to classify Valve's zombie first-person-shooter Left 4 Dead 2, Valve appealed the government's decision.
Valve's Zombie shooter was refused classification, which means it can't be made commercially available in the country. Not quite the same as a banning, but it has the same effect.
The company's appeal to overturn the Board's earlier decision has been refused, and the original, unedited version will not be sold in Australia later this fall when the game launches there.
As Valve told us earlier, the version of Left 4 Dead 2 submitted to the Australian government for rating is "the adjusted version." This version has been rated and will be commercially sold in Australia.
G/O Media may get a commission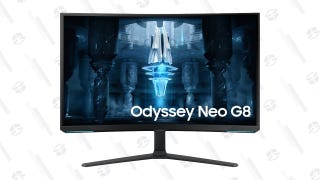 Samsung 32" Odyssey Neo G8 Curved Gaming Monitor
Valve's Gabe Newell told Kotaku Australia that this edited version, Australia-only version is "fully compliant with the guidelines" for a 15-years-old and up rating.
"We think Left 4 Dead 2 is a lot of fun," Newell said then. "It's a game for adults. But we're aware that different countries have different restrictions, and we want to make the choices that make the game the most fun for that country."
The recent decision regarding Valve's appeal to sell the unedited version reads:
According to the Classification Review Board, the game has been once again refused classification due to violence.

In the Review Board's opinion, Left 4 Dead 2 could not be accommodated within the MA 15+ classification. The computer game contains a level of violence which is high in impact, prolonged, repeated frequently and realistic within the context of the game.

In addition, it was the Review Board's opinion that there was insufficient delineation between the depiction of general zombie figures and the human figures, as opposed to the clearly fictional 'infected' characters. This was a major consideration of the Review Board in determining the
impact of this game on minors.

Computer games classified RC cannot be sold, hired, advertised or demonstrated in Australia.

The Classification Review Board convened today in response to an application from the distributor of the computer game, Electronic Arts, to review the decision made by the Classification Board on 15 September 2009 to classify Left 4 Dead 2 RC.
Thanks Clement for the tip.