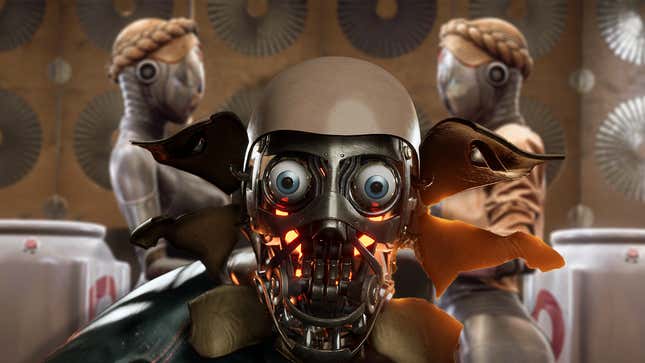 We're just three days into Atomic Heart's release and the Russian BioShock-type game is already knee-deep in controversy. How did we get here? Why do folks have to be mad? Let's get into the nitty-gritty and answer those questions.
Grand Theft Auto 6 Comments: A Dramatic Reading
Read More: The Russian Version Of Fallout, Atomic Heart, Looks Absolutely Batshit

First announced back in 2017, Mundfish's Atomic Heart is a first-person shooter set in an alternate 1955 Soviet Union where chrome robots rule. You play as Major Sergey Nechayev, a World War II veteran with amnesia charged with taking down hostile robots. Dubbed by gamers as the "Russian BioShock" players utilize Nechayev's robotic enhancements to hack, freeze, and levitate automatons before riddling them with streams of bullets, electricity, or blunt objects. Atomic Heart released on PlayStation 4, PlayStation 5, Xbox One and Xbox Series X/S, and PC on February 21.
Ukraine wants to ban Atomic Heart
Atomic Heart's heavy in-game use of pro-Soviet Russia propaganda and its developers' vague stance regarding the ongoing war between Russia and Ukraine landed it in hot water with the gaming community. Public perception of Mundfish, which says its developers operate out of countries like Ukraine, took a nose dive when its official Twitter account released a vague statement about its perspective on Russia invading Ukraine.
"We want to assure you that Mundfish is a developer and studio with a global team focused on an innovative game and is undeniably a pro-peace organization against violence against people," Mundfish tweeted. "We do not comment on politics or religion. Rest assured; we are a global team focused on getting Atomic Heart into the hands of gamers everywhere. We do not, and will not, condone contributors or spammers with offensive, hateful, discriminatory, violent, or threatening language or content."

Read More: Ukraine Game Developers Respond To Russian Invasion [Update]

According to Eurogamer, Mundfish's tweet omitted the fact that its team was originally from Moscow, and that Russian media outlets represent it as a Russian studio.
Mundfish's unclear stance on the war in Ukraine isn't helped by the fact that the financial success of Atomic Heart will likely benefit Russia via Mundfish's investor, GEM Capital. When Eurogamer asked about GEM Capital's level of involvement with Atomic Heart, Mundfish did not provide a comment. However, in an interview with the Russian press, GEM Capital founder Anatoliy Paliy said GME Capitol doesn't just serve as Atomic Heart's investor, it's also actively involved in the game's fundraising, strategy development, and operational decisions.
Kotaku reached out to Mundfish and the game's publisher, Focus Entertainment, for comment.

Read More: Doom Composer Donates His Atomic Heart Fee To Ukraine After Russia Controversy

While Mundfish has remained vague over its stance on the war in Ukraine, the Ukrainian government wants Atomic Heart pulled from its online storefronts. According to Video Games Chronicle, Alex Bornyakov, Ukraine's deputy minister of digital transformation, asked Sony, Microsoft, and Valve to remove Atomic Heart from Ukraine's digital stores.

"We also urge limiting the distribution of this game in other countries due to its toxicity, potential data collection of users, and the potential use of money raised from game purchases to conduct a war against Ukraine," Bornyakov wrote in a statement on Dev.au (translated to English by PCGamesN). "We also want to emphasize that the game developers have not publicly condemned the Putin regime and the bloody war that Russia has unleashed against Ukraine."

The robot twins' likeness
Next up on the list of Atomic Heart controversies is the eerie resemblance its female robot twins have with Yulia Tymoshenko, the leader of the Batkivshchyna party in Ukraine. The twins, who serve as the bodyguards for scientist Dmitry Sechenov, are highly evolved humanoid robots with voluptuous body types, crown braid hairstyles, featureless faces, and red stars on their foreheads. The twins feature prominently in Atomic Heart's advertisements, box art, and trailers. Many of Atomic Hearts player base have admitted to feeling some kind of way whenever the twins mount Nechayev's dying body and puncture it with holes.
This similarity between the twins and Tymoshenko was first spotted by YouTuber Dinka Kay on Twitter. While the similarities between Tymoshenko and the female robot twins' could be considered a stretch, the crux of this controversy isn't about their similar hairstyles so much as it is the fact that they're allegedly Ukranian sex slave robots.
"The game is glorifying sexual assault and has Ukrainian-looking robot sex slaves? *pretends to be shocked*," Kay tweeted. "We all told you that this would happen, but you wanted to fund the game that pays their government and military to traffick, r*pe, torture, and kill our women."
Kotaku reached out to Focus Entertainment and Mundfish for comment.
Atomic Heart's racist caricature

Turns out that calling Atomic Heart the "Russian BioShock" doesn't just pertain to its telekinetic gameplay mechanics, but the imagery used within its mythos as well. Folks on web forum Resetera noticed one of the cartoons that plays in the game's save rooms depicts a racist caricature of an African person.
According to PC Gamer, Atomic Heart's save rooms include episodes of a real cartoon from 1969 called Nu, Pogodi! (Well, Just You Wait!). With a slapstick style and animation chops reminiscent of a Tom and Jerry cartoon, episodes of Nu, Pogodi! depict a Soviet wolf's futile attempts to apprehend a cunning hare. The game's 12th featured episode of Nu Pogodi!, titled "Museum," features a brief shot of a racist portrayal of an African tribesman firing an arrow.

While the Nu Pogodi! clip noticed by Resetera was deleted from Twitter, "Museum" in its entirety can be viewed on YouTube. For folks who don't care to watch it, the controversial scene smacks of the same racist imagery found in old Disney or Popeye cartoons featuring indigenous people. Mundfish has not issued a comment about the racist caricature.

Controversies aside, Atomic Heart has been getting mostly favorable reviews from critics and players. Atomic Heart launched with an all-time peak of 38,469 players and has maintained 35,047 concurrent players according to SteamDB. The sci-fi shooter also has an average 77 Metacritic and 7.1 user score.