Over the steady march of a dozen years' progress, video games have brought us to all the sacred places in sports, awarded all their cherished trophies, and shared all their greatest traditions, except for one, A Tradition Unlike Any Other.
These Great Fortnite Creative Maps Show Us What's Possible
This year, more than three years in the making - under unbelievable secrecy - EA Sports and its Tiger Woods PGA Tour franchise will at last deliver Augusta National, Amen Corner, the Green Jacket, and the Masters, the most famous sporting event never to appear in an American video game. Moreover, EA Sports will move the game up from its usual mid-June release date to March 29, to hit shelves by the time the azaleas are blooming in Georgia.
"It's like baseball without Yankee Stadium, but that still fails in comparison to what this means to golf and to sports," said Nick Wlodyka, executive producer for what will be named Tiger Woods PGA Tour 12: The Masters. "A lot of people will be drawn to this just for the fact this may be their one and only chance to play Augusta National."
There are only 300 members of Augusta National Golf Club and its 18-hole course is only playable, even to them, for a few months out of the year. Tickets to The Masters are famously difficult to acquire. It's probably the most revered venue in sports that few will ever see for themselves. The course's only appearance in a game had been in the 1990s, in the Japan-only Harukanaru Augusta for SNES, Nintendo 64 and Genesis.
G/O Media may get a commission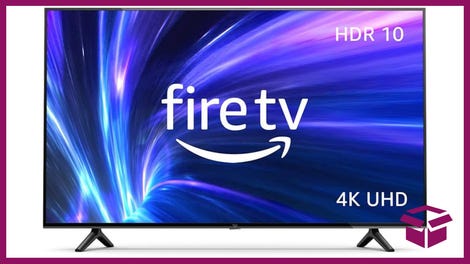 42% Off
Amazon Fire TV 50" 4K Smart TV
Yet, even as video games pressed into sports' mainstream, they seemed to offer little hope of experiencing Augusta National virtually. Fans had come to assume The Masters, a deeply conservative presentation, were being held out of games because of the golf club's famously protective stance in front of its symbols and traditions.
In fact, Augusta National Golf Club has regarded video games as a means of fulfilling its mission of growing the game of golf, for some time, Wlodyka said. The wait came largely from EA Sports Tiburon's 80-man development team, knowing they had to hit every detail perfect on the first try. For all its exclusivity, Augusta National's 18 holes are uncannily recognizable, owing to the fact The Masters is professional golf's only major tournament played on the same course every year. So while the two sides had been in agreement on bringing The Masters to a video game for several years, only when the course was perfected for presentation and playability would Augusta National approve its inclusion.
"If you know the course, you'll be able to point to a tree in the game and say, wow, that tree has exactly that many branches, and that's the way it's curved," Wlodyka promised. "It's difficult to appreciate, unless you've been there. Although we have the course and we have the tournament, that is, maybe, 60 percent of the way there. We wanted to make sure we overdelivered and captured everything around and about Augusta National."
The development time wasn't spent entirely on aesthetics, Wlodyka said. Though The Masters usually returns 72-hole totals under the U.S. Open or the British Open winner's, the course still plays in peculiar ways that EA Tiburon strove to capture.
"I remember the first time I was there. I was amazed at the depth of field, the way shots set up," Wlodyka said. "If you had a shot 110 yards away, it would look 180 yards away because of the way the trees enclosed the greens. The 13th at Augusta, the way you're hitting it with the trees in the background, Augusta can play mind tricks on you."
You can sense how deep Wlodyka has gone into Augusta National's culture when he casually mentions "the second cut" - which is the term the club prefers that announcers use, instead of "rough." Augusta's notoriously treacherous pin placements and fast greens will be another aspect of the video game course design.
"We will have tournament conditions and regular conditions" Wlodyka said. "We didn't want to put beginner players out there in tournament conditions, where you miss a putt by a foot and the ball's gone by 20 feet.
"We worked with the course superintendent over the years," Wlodyka said. "When you play it, you might look at a green and think you know where to aim. But he said, 'You know what, you're better off over here,' and if you have it dialed in, the ball will roll perfectly there. He knows. He's been working on the course a million years."
Yet the inclusion of the Masters, with commentary from Tiger Woods, a four-time winner, is just one feature of the new game. The Masters have been broadcast by one U.S. network since 1956, with one man as host since 1989. CBS' Jim Nantz -for millions the voice of golf - now takes over the booth for Tiger Woods PGA Tour 12: The Masters.
"In a way, he co-designed the script," Wlodyka said. "He designed a lot of the lines and, of course, their delivery. And when we brought him on, and finally showed him the game, he said, 'You know, I've been going to The Masters for all of these years. I look at this, and I felt as if I was back there.'"
Further, caddies - wearing the iconic Augusta National-issued white jumpsuit when you play that course - will make their first appearance in the game. They will be a secondary character progressing with a player's career, dispensing club selection and shot placement advice. Wlodyka said the caddies' influence will work to deepen the overall course difficulty while still keeping it understandable.
"He'll talk to you, set up all of your shots, taking into account your lie, the environmental conditions, the location of the green and fairway, and deliver you better shots than you'd be able to come up with yourself," Wlodyka said. "What you get sometimes in this game are players who think 'I just want to bombs away with the driver, as far as I can,' thinking that's a perfect shot. They wouldn't account for the wind, the slope, or the second cut. So the caddy will be there to say, 'Here's the 3 wood, here's why you should use it."
And yes, for those wondering, a variation on Dave Loggins' "Augusta" - the tournament's emotional piano, guitar and violin ode, a part of every Masters' CBS broadcast since 1980, will be a part of the game.
Pulling all of this together required an effort "exponentially more secret" than any sports game deal done before, Wlodyka said, though a corporate filing listing a PGA Tour game delivering at the end of March stirred the attention of many insiders.
"We've been working on this for a number of years, and it's been in discussions for even longer than that," Wlodyka said. "It's hard to believe we haven't had a leak. But if people heard that we were working on it, they might think 'No way,' thinking if we ever were going to have The Masters, we would have had it by now."
In any other sport, a video game maker's repeated visits to a venue would almost assuredly result in a leak or whispers. But as this involved Augusta National, a profoundly discreet organization, the project never really ran that risk.
"That said, there are absolutely places that we didn't get access to," Wlodyka said. "There is definitely a curtain there. We got a peek behind it. We get to show a few things, some really beautiful things. But that's something very important to them,"