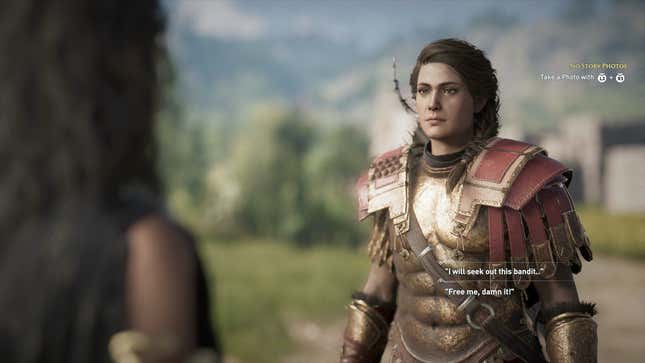 Assassin's Creed Odyssey released a story creator this week, allowing players to cobble together their own questlines and share them with others. The website for constructing handmade stories is easy to use and fun to tinker with, even in the final results of that tinkering can be a little awkward.
Elden Ring's Top Five Spells, According To FromSoftWare's Stats
To create your own stories, log into a new website, where you're able to choose a cast of characters, string together dialog and objectives, and even create larger quest chains, which you can then share and play on any platform. I was able to create a rudimentary quest in about 30-40 minutes. The Story Creator is easy to understand, but it didn't feel quite as robust as I'd like.
The Story Creator tool works somewhat like Twine, which I've used to make narrative games before. It's extremely basic so long as you have a decent understanding of "If, then..." statements. You pick a node, say, a box for dialog. The dialog appears as text; there's no voice acting, as you can imagine how expensive that would be. You fill the box with what your characters say and what their body language is based upon moods like "curious, awestruck, or bored." Then, you can connect those to decision points or objective triggers. These boil down to basic interactions: kill this target, talk to this person, go to this location, rescue this prisoner. In the case of dialog choices, you can list choices and set up triggers that create various outcomes. Kill this person, have the quester giver say X thing. Turn down the job, have the objective marker lead to an alternate path. The most basic quests such as mine are only a handful of nodes, but multiple quests can be chained together into a larger narrative.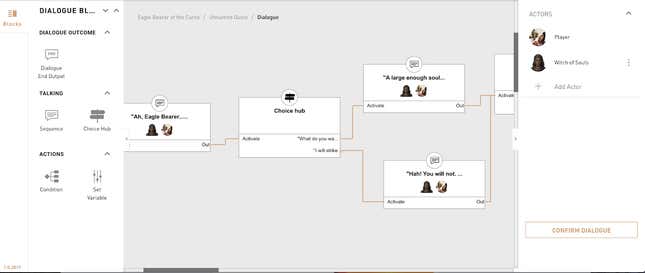 G/O Media may get a commission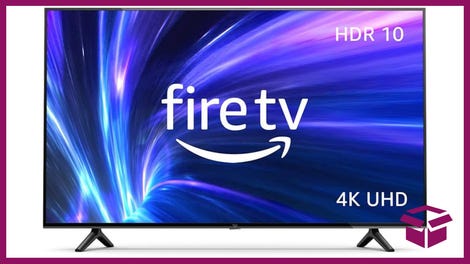 42% Off
Amazon Fire TV 50" 4K Smart TV
Setting up the story nodes and a few flags didn't take very long. I snuck all of this in before this morning's Nintendo Direct, assembling the most basic quest structure. I called my quest "Eagle Bearer of the Curse," and it involves a dangerous witch who brands the player character with a life-sucking curse. She demands they go kill a bandit king whose souls has eluded her. Meanwhile, the bandit claims killing the witch is actually how to break the spell. It's stupid stuff, mostly an excuse to have a simple branch between two objective. Believe the bandit? Go and kill the witch. Think he's lying? Kill him. Either option ends the quest.
Testing my story took more time than constructing it, but Assassin's Creed Odyssey makes it easy to jump to the start of your quest and begin playing through. It's here that the cracks begin to show, although some of that is undoubtedly due to my hasty assembly. On my first time around, I found that placing the bandit king in a camp of actual bandits was a bad idea: wandering close to the camp, he somehow was slain and the quest ended immediately. The Story Creator doesn't make it easy to toggle invulnerability for essential NPCs on the fly, so I had to risk making them vulnerable from the start. This meant a stray wolf or overeager soldier could kill my characters. Moving the bandit king to a remote location was as easy as selecting a new location on the map, but because he was a member of the bandit faction, he attacked the player on sight. Not great for someone you're supposed to listen to. These are the sorts of little things that the Story Creator doesn't make completely clear, and I spent time playing my simple quest over and over to iron out wrinkles.
There's also a few other issues that I haven't figured out. For now, there appears to be a only a handful of character templates to choose from. That means taking characters from the main game and recasting them in made up roles. Making NPCs that you can talk to and, in the case of my quest, who are then supposed to engage you in combat is tricky. From what I can tell I don't have control over variables like how much health they have or what weapons they might use. Maybe that's buried in menus that I've not yet explored, but there's definitely a sense that this is a limited tool better suited to narrative quests than combat challenges. I'm sure other players will crack the code and make intricate stories as time goes on.
Over time, the Story Creator could lead to some really magical quest lines, but players should manage their expectations when using it. This is a chance to expand the world of Assassin's Creed, but there's no way to match the main game's expansive stories. Spare some imagination and you might have some neat stories, even if there are some awkward puppet people and glitches along the way.

I'll publish my quest later today after a bit more testing. Be on the lookout for a witch in the Argolis area if you want to enjoy a very basic example of what the Story Creator can offer.