Action game El Shaddai: Ascension of the Metatron might have a wordy title, but Japan is totally enamored with the game's hero Enoch and his flowing locks. You could say Japan has a crush. Time for a meme!
El Shaddai is inspired the Book of Enoch and features a pre-fall Lucifer who carries a cell phone with god on his speed dial. The game is being created by game director and character designer Sawaki Takeyasu and producer Masato Kimura, who between them can claim credit for Devil May Cry, Okami, and Viewtiful Joe, with the influence of the latter two readily apparent in El Shaddai's look.
The Japanese internet is having a blast slapping Enoch's dreamy face on photos. He's so handsome! There are also fan art and guest appearances by Lucifer.
【同人】エルシャダイオンリーイベント「大丈夫だ、問題ない。」始まる!!! [オレ的ゲーム速報@刃]
G/O Media may get a commission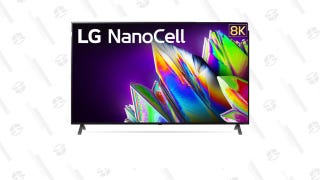 LG 75-Inch 8K TV