We saved my weirdest E3 appointment for last—checking out the rhythm/sports hybrid NBA Baller Beats from Majesco and HB Games about four hours before my flight last Thursday. The teaser videos may have looked ridiculous, but some of that can be attributed to overacting and over-editing. How does this Kinect game look when someone is really trying to play it?
Let's put it this way, I was doing this on "rookie" mode. I have no left-hand dribble to speak of, no compact crossover. In the noise of the show floor at South Hall, was hard to pick up the beat of the game, which might have assisted me with my scoring. But even on a medium-difficulty song lasting 4 minutes, I got a decent workout.
NBA Baller Beats isn't just about rhythm, it's also about vision, as you'll have to look at two disparate areas of the screen—the note highway, to keep the beat, and the upcoming move indicator, which tells you if a between-the-legs, a pass-fake, a pump-fake, or whatever, is coming next. It fairly demands that you know how to dribble a ball close and low to the ground without looking at it, in either hand, and I just lack that skill.
The booth's two instructors (not pictured) were both college players from the L.A. area, full of encouragement and salesmanship. They did give a couple real examples of how it could be an honest dribbling coach. One said that young kids, especially, love acting out in front of the TV, and NBA Baller Beats would seem to indulge that. Another touted the fact that you just can't look at your dribble, which is what rec-league meat like myself does every time.
G/O Media may get a commission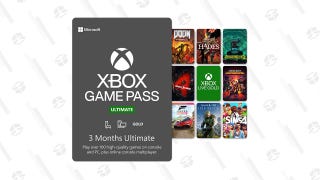 Save 11%
Xbox Game Pass Ultimate: 3-Month Membership
You can play the game on regular-length carpet, I'm told; high-pile or shag won't create enough of a true bounce. It also goes without saying that you really shouldn't have downstairs neighbors, as the thumping of the ball will be flat unbearable. But if you have the normal space to play a Kinect game, then you have enough space to play NBA Baller Beats. Just make sure you're pump-faking high, and not into the TV.
The game comes with a regulation NBA basketball, and is available on Sept. 11 on Xbox 360 with Kinect. It may not be for me, and it may not be truly a dance-party game or exergaming title, but it is a novel concept, give Majesco that.
I just want to say that, though it is not pictured here, I did make the one between-the-legs dribble required of me. And yes, that's a Javale McGee Washington Wizards jersey I am wearing.