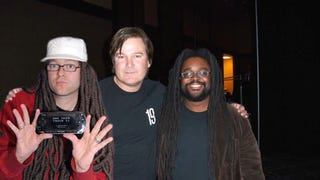 Next year, the fourth installment in the US$2.6 billion grossing Pirates of the Caribbean franchise goes into production. After spending the past years on the series, director Gore Verbinski is moving on.
Instead of directing the fourth Pirates, which is once again starring Johnny Depp, Verbinski has told producer Jerry Bruckheimer that he has opted to focus his energies on the BioShock movie, slated to being production in 2010.
"I had a fantastic time bringing Pirates to life, and I am eternally grateful to Jerry, Johnny and the rest of the creative and production team," the director said. "I'm looking forward to all of us crossing paths again in the future."
Bruckheimer is also moving into bringing video games to the silver screen — most notably, he's producing the Prince of Persia Hollywood adaptation.
After BioShock, Verbinski is developing other game related projects, including a drama based on a Wall Street Journal article about MMOs and how it can affect the lives of players.
Verbinski Won't Set Sail For A 4th Pirates. Would Rather Do Videogames Instead. [Latino Review]