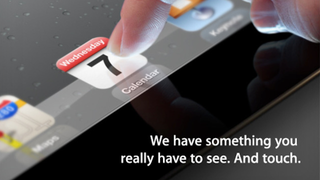 Apple will unveil the next iPad on March 7 in San Francisco, it said today in an emailed invitation to press.
Our sister site Gizmodo reports that the new device could feature a 2048×1536 resolution Retina Display and a quad-core A6 processor, which would make it particularly appealing to video game fans. More processing power could help the new tablet compete with Nintendo's 3DS and Sony's recently-released PlayStation Vita in the realm of portable gaming.
The Retina Display, a crisp resolution enhancement that has made appearances on the iPod Touch, iPhone 4, and iPhone 4S, could make high-definition iPad games look even better.