Japan has a small, yet thriving indie game community. But does Nintendo want any part of it?
Nintendo is trying to be more welcoming towards indie games than it has been in the past. At this year's Game Developers Conference, Nintendo revealed Unity for Wii U and Nintendo Web Framework. These tools should make the Wii U more developer-friendly. It also is opening up the Wii U to independently developed titles by sending out free development kits to indie developers (at least, according to the creator of Retro City Rampage). Good news for the indie game community!
That is, unless you are a Japanese indie game developer, apparently. While GDC was this past March, Japanese game developers are just now finding out about a curious policy Nintendo has.
This is a questionnaire from GDC that is currently making the rounds on Twitter in Japan. It says in both Japanese and English: "We are not accepting applications from developers located in Japan at this time." It's unknown if this policy has changed.
G/O Media may get a commission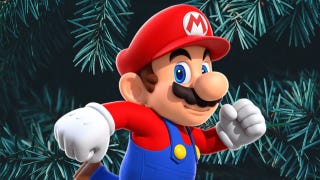 Black Friday
Nintendo Switch Deals
The policy is mystifying many members of the country's indie community. "Why, Nintendo, is 'only Japan' excluded from individual registration?" asked Japanese indie dev Toshirou Takahashi.
"Seeing 'No Japs' written on an international-looking website is such a terrible sight that it makes me weep," tweeted a Japanese developer from indie group Studio Rice Cake. Obviously, Nintendo didn't write in such tinged language and the developer seems to be making the point that this is discriminatory.
That same developer said that at this year's GDC, there was lots of interest among Japanese developers in attendance and many of them applied, unaware of any sort of restrictions. But about a half a month later, there was a strange email that said something to the effect that it was difficult to support indie developers living in Japan, so this dev kit offer wouldn't work out.
Android app developer Tatsuo Nagamatsu pointed out on Twitter that Nintendo's refusal to work with indie developers seems to be supposedly related to the company's Wii U software policy, which apparently states Nintendo exclusively works with software selling entities (read: "publishers") and not individuals. This policy, perhaps, seems to be designed to protect Nintendo's second- and third-party partners.
Meanwhile on 2ch, Japan's largest forum, some called the decision "discrimination", while there were also snide remarks that this rule was to prevent "creepy otaku" from making erotic games for the Wii U. Others on 2ch and Twitter mentioned how the whole situation seemed cruel and showed a narrowing of options for indie game makers in Japan.
There is another possibility: Nintendo could be rolling out a different development program for Japan and Japanese indie developers. If so, this hasn't exactly been motivational.
Kotaku reached out to Nintendo for comment and clarification, but did not hear back before publication.
Wii U向けの個人開発は日本国内"のみ"不可 [Togetter via 2ch Thanks, JoeDoriss!]
To contact the author of this post, write to bashcraftATkotaku.com or find him on Twitter @Brian_Ashcraft.
Kotaku East is your slice of Asian internet culture, bringing you the latest talking points from Japan, Korea, China and beyond. Tune in every morning from 4am to 8am.