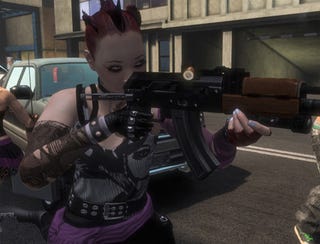 After a good month and a half of grilling potential participants about all aspects of their lives, Realtime Worlds is ready to get its beta test on for gangland MMO APB.
Realtime Worlds CEO Gary Dale was on hand at the Tech Media Invest conference in London, where he confirmed that the game some describe as a persistent world Grand Theft Auto would slowly begin letting in beta testers next week. One would expect those accepted into the test to find out extremely soon. Dale also made a point of mentioning that the number of beta participants would steadily increase leading up to next year's launch, so don't give up on it, baby.
I honestly have no idea where that last bit came from.
APB beta to go live next week [GamesIndustry.Biz]