For ages, Kotaku's Luke Plunkett has taunted me with pictures of Hot Toys figures, the most spectacular sixth-scale, highly-articulated, true-to-life (where applicable) toys available. Now I've gotten my hands on one — the Iron Man Mark XXI Midas Armor sold by Sideshow Collectibles, and I may have been better off without.
See, I've bathed in Hot Toys drool for several years now, both from Plunkett and our more toy-savvy commentors. Recently I read a comment that said something along the lines of "Hot Toys is the best thing to happen to action figures ever." Now that I've held one in my hands, I can say that comment was not far off.
That's a problem for me. If this had happened a couple of years back, before the twins arrived, then I would be up to my armpits in articulation and accessories at this point. But no, I've got the itch right now, and it's a matter of buying all the toys or sending my children to college so they can buy me all the toys 20 years from now, hoping to stem two decades of guilt trips.
Not only is this a Hot Toys figure, it's an Iron Man Hot Toys figure, showcasing one of the armors Stark stupidly blew up to make Pepper Pots feel better about their relationship at the end of Iron Man 3. He blends really well with autumn leaves. The only Iron Man figure more desirable to me than one of these is 40 inches tall and $2,000.
G/O Media may get a commission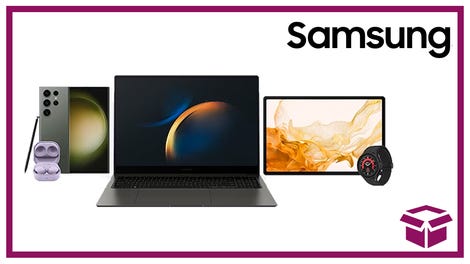 24 hour deals
Discover Samsung - Daily Deal
The Mark XXI Midas is one of Sideshow Collectibles' Cyber Monday special this year, and will go up for preorder then. While you wait, why not read a review? I have one right here.
WHAT'S IN THE BOX
The high-flying Iron Man Mark XXI Midas in all his golden glory
Three sets of hands
Two sets of wrist pieces
Non-firing pop-up missile bracers
Non-firing missile-laden shoulder pieces
Stand with base, post and figure grip
Small plastic tool for removing chest piece
Instructions
WHAT I LIKED
Well, it's Iron Man —The best thing to come out of all of this Iron Man movie business is toys. Iron Man is the perfect action figure or statue subject, all clean lines, no skin or hair to fuss about with, unless you're getting fancy. It's incredibly hard to make an ugly Iron Man toy, so with Hot Toys at the helm, one can expect nothing short of perfection.
It's Not Just Gold — Hot Toys could have easily just painted another Iron Man figure gold here, but that's not a thing they do. Instead we've got a lighter gold mixed with an almost coppery color, with silver accents. This is what the gold iPhone 5s should have looked like.
Beyond the color, the Mark XXI is nicely scuffed in all the right places. Though we barely see the model in the film, one can easily imagine a situation where Stark, testing the golden shell, skidded to a halt on the chest plate. He really should be more careful.
Stark Lines — The Iron Man armor if the movies is not a solid piece. It's not molecular chain mail. It's segmented and layered like some sort of insect, with lines and seams running over the surface like a convoluted roadmap to the future. Capturing these little details is what Hot Toys does best.
Hidden Articulation — Anyone can make an action figure that bends in all the right places. The trick is making an action figure that bends in all the right places without looking like it beds in all the right places. Hot Toys got lucky with this particular license, as the movie armors themselves were crafted with the same sort of functionality in mind. Pads obscure the shoulder joints, bracers obscure the hands, and multi-layered plastic obscures the feet. The only obvious point of articulation is the crotch. Stop staring at Iron Man's crotch.
The Extra Bits — I did not need a light-up chest, repulsors, or eyes. I did not need those little air foil flaps on the back, or the air brakes on the calves, or the removable chest pieces. This Iron Man figure would have been perfectly fine without them. It also wouldn't have been a Hot Toys figure.
WHAT I DIDN'T LIKE
Little Loose Around The Shoulder — It might just be my figure, but this guy's left arm pops out of socket incredibly easily. The right side is just fine — I can manhandle that arm all day. The left pops off when I try to pose it. I can pop it back in and it stays unless I fiddle with it, but it makes it hard to fly Iron Man across my desk, making repulsor noises at my empty soda cans.
Not Much For Standing — Getting the Mark XXI to stand for these photos was quite a chore, which I was no expecting, given the amount of articulated plates around the boot area. I guess that's why it comes with the elaborate base.
Dead Batteries Already? — Of the figure's four points of light — the head, both arms and the chest — only the chest and the left hand lit up when I removed their plastic tabs and flipped their switches. Nothing some tiny batteries and an even tinier screwdriver won't solve, but irksome.
MY FINAL WORD
Dammit. Just... dammit. I should have started with a basic Iron Man figure. Something red and gold — a classic.
But no, I went for the Mark XXI Midas Armor, a piece that looses most of its meaning if it isn't surrounded by a dozen other armors from that one scene in Iron Man 3 with all the damn armors. Now I need the Silver Centurion, and the Igor, and the Red Snapper, and whatever other models Hot Toys deems to release.
No other toy maker could do Iron Man this much justice. I'll keep telling myself that when I am homeless, pushing a shopping cart filled with Hot Toys boxes.
The Iron Man Mark XXI Midas Armor from Hot Toys goes up for preorder at Sideshow Collectibles' website on Monday, December 2.