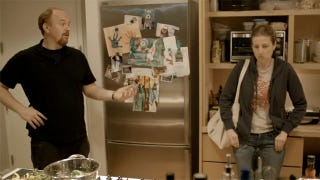 Oh, Friday! We're so happy to see you. Let's put you to bed with a cup of warm conversation, maybe some laughter—but please, no tears—in tonight's open thread.
Actually, tears of laughter will suffice. If anyone has great comedy suggestions, particularly in the stand-up comedian sense, we're all ears. I'm a fan of the comedy stylings of Louis CK, Patton Oswalt, Chris Rock, Tim Heidecker and Neil Hamburger. Any suggestions? Any great up and coming comedians we should know about?
Well, have a good weekend ladies and gents. I'll leave you with these links. Ta!