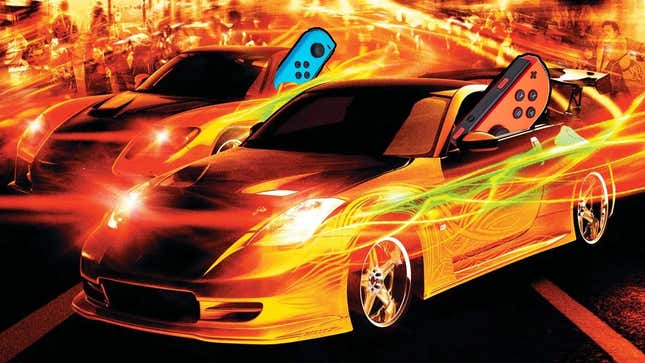 This Amazon Prime Day deal on replacement Nintendo Switch Joy-Con thumbsticks promises to make your anxiety over drifting controllers a thing of the past. All you need is a little technical know-how and the ability to follow instructions.
New Pokémon Scarlet And Violet Trailer Features Hot Profs, 4-Player Co-Op, And Lechonk, The Hero We Deserve
Read More: Prime Day Sales: Grab Elden Ring, No Man's Sky, And More For Cheap

The Gulikit Hall Effect thumbstick Switch Joystick Replacement claims it "solves the drift problem of ALPS joystick from the root" by allowing players to enjoy experiencing video games, particularly those in the first-person shooter genre, by replacing Nintendo's joysticks with a more durable one. All players will have to do is roll up their sleeves and assemble the joystick replacement themselves (screws and screwdriver are included) by following an instructional video. The Hall Effect joystick replacement is currently on sale for $21.36 on Amazon.

Nintendo Switch Joy-Con drift is still a problem in 2023
If you're like me, you've likely been a victim of wanting your trusty, albeit hand-crampingly small Nintendo Switch controllers falling victim to the dreaded Joy-Con drift. Whether it's the left or right Joy-Con, having a controller that automatically moves the cursor is a fate I wouldn't wish upon even my worst enemy. It fucking sucks, especially if you're trying to play hyperactive games where mastery of movement is key like Hades or Katamari Damacy to be hyper-specific on my own gamer pain situation. More recently, my replacement Joy-Cons face buttons stopped working six months after buying them, which is really just great, you know. It totally doesn't make Valve's Steam Deck look even more appealing than the Switch in the slightest (it does and has).
Read More: Nintendo Switch Joy-Con Repair Center Was Constantly Overwhelmed, Claims Former Supervisor

While Nintendo has made efforts to repair players drifting Joy-Cons at its repair facilities, players have reported either long waiting times due to high demand for the service and in some cases, have found that their fixed Joy-Cons are back to drifting like they're in Fast and Furious movie months after having them mailed back from Nintendo. Outside of buying new Joy-Cons outright, which cost as much as a new Nintendo Switch title, the only feasible solution left for players is to take matters into their own hands and repair their drifting sticks. This is where these affordable joy-con joystick replacements aim to come in handy. Hopefully, assembling your replacement joysticks is as relaxing a tactile experience, like assembling a gunpla and less like rocket engineering.