Last year was a totally bizarre year at Konami. One of the oddest moments was when game creator Akira Sakuma tweeted that his long-running train series Momotaro Dentetsu was officially over after a very public feud with Konami. Odder still is that a new Momotaro Dentetsu game was just announced.

In Japan, the latest Nintendo Direct revealed Momotaro Dentetsu 2017, which will be out this fall. (No Western release has yet been announced.)
This spat goes back a few years, when Konami took over Hudson, which originally released the Momotaro Dentetsu games, and began restructuring. Sakuma isn't a Konami employee and has been working on the games in a freelance capacity.
What makes this latest announcement surprising is that Sakuma had been unhappy with how things were allegedly going with Konami, stating in 2012 that he wasn't going to make anymore Momotaro Dentetsu games if Konami requested "big changes." He is so closely connected with the series that fans probably would not want a Momotaro Dentetsu he didn't create, something he seems well aware of.
But during all this, Sakuma has been incredibly public about the axe he was grinding. In 2012, for example, Sakuma tweeted, "As long as there's a guy named Imura at Konami, I won't make Momotaro Dentetsu."
G/O Media may get a commission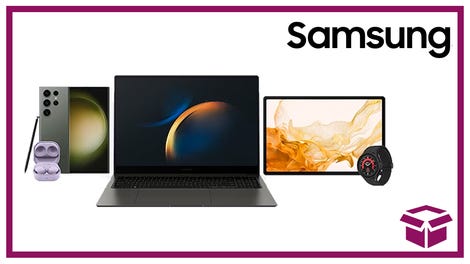 24 hour deals
Discover Samsung - Daily Deal
Then in 2015, he tweeted, "Konami hasn't gotten in touch with me at all. This is how they've tossed me aside for a while now. I'm announcing here that Momotaro Dentetsu is officially done. Ishikawa at Konami squelched everything."
It's unclear who Imura and Ishikawa are. But damn. This kind of thing simply does not happen in the Japanese game industry.
Soon after this, Konami stated it was talking with Sakuma, but hadn't yet reached a conclusion. Now, it seems one has.
In the recent Nintendo Direct, a message from Sakuma was read in which he recounted how people ask him on an annual basis if a new Momotaro Dentetsu was going to be released, adding that the character designs have been updated and apologizing for the taking so long to release a new entry in the beloved series.
(Shoji Masuda, who hasn't worked on the Momotaro Dentetsu series for decades, will also be participating in the game's development with Sakuma, Famitsu reports.)
So what's going on? Japanese website Hachima Kikou notes that in the Nintendo Direct's end credits, Momotaro Dentetsu now has two copyright marks: One for Konami and one for Akira Sakuma.
Last year, Nikkei reported that Nintendo was licensing Momotaro Dentetsu from Konami and developing the title with Sakuma. Seeing how the game is now a Nintendo title, that appears to be the best way to resolve whatever issues there were and ensure new Momotaro Dentetsu.
Sakuma appears to be in a good mood on Twitter, if tweets of his food are anything to go by:
Yum!
Kotaku East is your slice of Asian internet culture, bringing you the latest talking points from Japan, Korea, China and beyond. Tune in every morning from 4am to 8am.