While there was much wailing and gnashing of teeth over the poor performance of June's console games, on PC, things were looking a little healthier, with EA's The Sims 3 emerging as the month's biggest-selling game on any platform.
These Great Fortnite Creative Maps Show Us What's Possible
While the top-selling console game was Prototype, with 419,000 copies sold, EA shifted an impressive 820,000 copies of The Sims 3 in the US market. And that number only includes the copies sold via traditional retail channels (stores, major mail order outlets), so when you factor in digital sales, the number may well be approaching the million-sold mark.
That's a more successful launch than the Sims 2, which "only" moved 700,000 units in the US in its first month on sale. And considering The Sims 2 is still a heavy-hitter in the PC market, we can only imagine/fear what kind of success The Sims 3 will have.
G/O Media may get a commission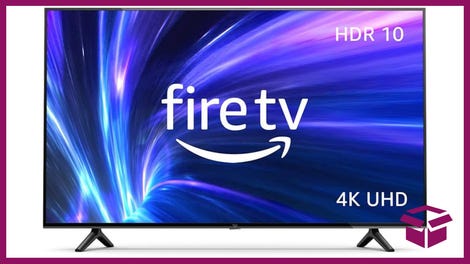 42% Off
Amazon Fire TV 50" 4K Smart TV
Obviously, the game stopped the NPD Group's monthly sales charts for June, but if you'd like to see what ran 2-20, the full chart is below.
1. The Sims 3 (EA The Sims Studio, Electronic Arts)
2. The Sims 3 Collector's Edition (EA The Sims Studio, Electronic Arts)
3. The Sims 2 Double Deluxe (EA The Sims Studio, Electronic Arts)
4. World of Warcraft: Wrath of the Lich King (Blizzard Entertainment)
5. World of Warcraft Battle Chest (Blizzard Entertainment)
6. Spore: Galactic Adventures (Maxis, Electronic Arts)
7. World of Warcraft (Blizzard Entertainment)
8. Spore (Maxis, Electronic Arts)
9. Empire: Total War (The Creative Assembly, Sega)
10. StarCraft Battle Chest (Blizzard Entertainment)
11. World of Warcraft: The Burning Crusade (Blizzard Entertainment)
12. Reel Deal Slots Adventure (Phantom EFX)
13. Civilization IV: Complete Edition (Firaxis Games, 2K Games)
14. WarCraft III Battle Chest (Blizzard Entertainment)
15. SimCity Box (Maxis, Electronic Arts)
16. Diablo Battle Chest (Blizzard Entertainment)
17. The Sims 2: Apartment Life (EA The Sims Studio, Electronic Arts)
18. Prototype (Radical Entertainment, Activision)
19. The Elder Scrolls IV: Oblivion GOTY Edition (Bethesda Game Studios, Bethesda Softworks/2K Games)
20. Ghostbusters: The Video Game (Terminal Reality, Atari)
Exclusive: The Sims 3 Breaks 800K, Tops U.S. Game Sales In June [Gamasutra]