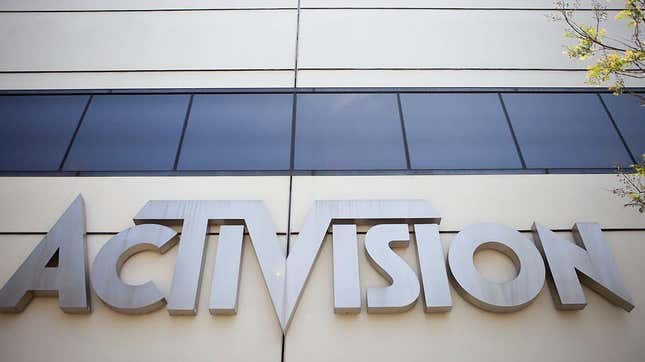 The Communications Workers of America (CWA) have today filed charges against publisher Activision—a company with a long track record of alleged union-busting—claiming the publisher violated several workplace laws in relation to the firing of two QA testers.

This Mini Sega Arcade Cabinet Packed With Retro Games Would Make A Great Gift
The charges are related to Activision's recent decision to begin forcing workers back into the office, which has been met with resistance across the company's workforce. The CWA say that "numerous workers protested the [return to office] plan citing cost of living concerns and the impact it would have on their co-workers who might be forced out of their jobs".
"Two QA testers expressed their outrage using strong language. In response, management set up disciplinary meetings where both workers were fired."
The CWA argue that "the use of outbursts and strong language in the context of concerted activity by employees was protected by the National Labor Relations Board" until as recently as 2020, before the Trump administration "systematically rolled back workers' rights, including modifying the standard for determining whether employees have been lawfully disciplined or discharged after making offensive statements, which ultimately limits free speech rights for employees."
Activision disagrees. "We don't allow employees to use profane or abusive language against each other," a spokesperson for the company, Joseph Christinat, told Kotaku. "We're disappointed the CWA advocates this type of behavior."
The charges have been filed against Activision CEO Bobby Kotick directly, and allege that the firings—which took place on February 17—were made "in response to [the employee's] engagement in protected, concerted and union activity". The CWA also allege that Activision "improperly denied a request to have a coworker witness the disciplinary meeting which preceded the termination of [their] employment".
"For far too long, Activision has gotten away with treating its employees, especially QA testers, like disposable work horses. Firing two employees for joining with their co-workers to express concern around hasty return to office policies is retaliation, point blank," CWA Secretary-Treasurer Sara Steffens says. "When faced with unfair treatment by unscrupulous employers like Activision, workers should have the right to express themselves."

Update 3/1/2023 9:08 a.m. ET: Added comment from Activision.