Avid Final Fantasy VI fans might have noticed an inconsistency among the various releases of Square Enix's classic role-playing game.
While joining your ragtag group of Empire-fighting rebels in the 1994 Super Nintendo version, wandering gambler Setzer says, "The Empire's made me a rich man." As if he's sacrificing money to do the right thing.
But in the Game Boy Advance version, released over a decade later, he says, "The Empire's been bad for business." As if he's joining your team because it'll make him more dough.
Seems like a huge discrepancy, no? In one version, Setzer is a noble rogue; in another, he's just fighting to turn a profit. Well according to GBA translator Tom Slattery, the original, nobler version was a mistranslation.
In an interview with RPGamer, Slattery explains:
It may have made Setzer appear to be making a more dramatic and nobler transformation, but that was a mistranslation in the original English script, plain and simple. The expression used in Setzer's Japanese line is an idiomatic one, shoubaiga agattari, meaning "business has dried up." Setzer is beginning to reveal that he has no personal love of the Empire, acknowledging that it has been hurting him financially. Celes jumps on this first sign of receptiveness to their appeal, saying literally "It's not just you," and encouraging him to think about all of the other people who are likewise suffering at the hands of the Empire.

My guess is that the original translator was not familiar with the idiom and translated it literally, assuming it meant business had "gone up," or improved, rather than "evaporated." That was a rather major departure from what was intended there, however, and presumably a wholly unintentional one on the part of the translator. So, there was really very little in the way of a thought process there. I recognized the mistake for what it was and corrected it.

It wasn't as though Setzer had no choice in the matter. An act of open rebellion against the Empire put him at great personal risk, so it was still a huge gamble on his part. However, he had reasons for arriving at the decision beyond a sudden and inexplicable desire to do good. There has always been a fair amount of homage to Star Wars in Final Fantasy (see: "Aren't you a little short to be an Imperial trooper?"), and I think it's fairly safe to say Setzer is our Han Solo. He hates the Empire, loves his money, and doesn't want to join the rebellion, but in the end he follows the right path—in hopes of getting the girl.
G/O Media may get a commission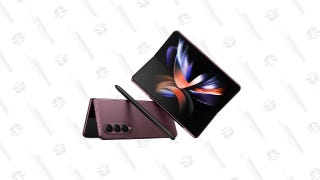 Save Up to $300
Galaxy Z Fold4
What a difference one line can make, eh?
The whole interview is really interesting if you're curious at all about the fascinating world of RPG translation. Slattery has also worked on the rereleases of games like Final Fantasy Tactics and Final Fantasy IV. Check it out!
Inside Gaming - Interview with Former Square Enix Translator Tom Slattery [RPGamer]