"Never pass up the opportunity to sit," Ben Haumiller (above) told me, as we slumped back on Virginia's vacated sideline bench at Wallace Wade Stadium, the Cavaliers in the locker room leading Duke 17-14 at the half this past Saturday. Pondering the long walk to the free concessions in the press box, I half considered sticking my mouth under the spout of the UVa water cooler. All we had been doing for the past four hours was standing on the sidelines and keeping quiet. But you really have no idea how draining that kind of work can be, especially in the early autumn sunshine at a Southern football stadium.

Ben's face already betrayed the onset of a sunburn, and though I had worn a cap, my neck and cheeks were sure to peel in the next two days. My feet throbbed and by Monday I'd be walking with a limp, thanks to a poor choice of shoes.
To explain what the hell we were doing, you have to go back to the roof of a parking deck in Florida about nine years ago. Haumiller, then fresh out of Florida State and at the time a tester for EA Sports' NCAA Football series, was in a group of about 50 guys, mostly testers from QA, hauled out of their cubicles to start screaming college crowd chants.
Haumiller, now the producer of NCAA happily did the Seminole War Chant—"I can still hear my own voice in it," he said. But when it came time to say "It's great to be a Florida Gator," Haumiller flatly refused. Jeff Luhr, a Nebraska alumnus and the lead designer (now the creative director) likewise put his foot down when it came time to replicate an Oklahoma crowd chanting Boomer Sooner.
"I mean, it's usable but you can tell, there's not a real passion behind it," Haumiller said. Having heard the Seminole War Chant he and his colleagues recorded, I agree. It is kind of a moaning drift, nothing close to the force projected by nearly 80,000 FSU partisans on a Saturday at Doak Campbell Stadium.
G/O Media may get a commission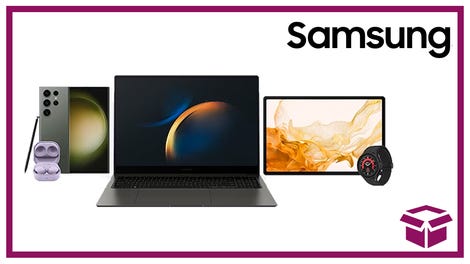 24 hour deals
Discover Samsung - Daily Deal
For the past two years, EA Sports has introduced actual stadium audio into NCAA Football—cheers, groans, chants, outbursts, you name it. It may be more essential in a college football video game—whose fans are motivated by a personal identification unique to major sports—than in any other simulation.
The collection of this audio can only be done one way—in person. When three of Tobacco Road's four schools all played home games at separate starting times last Saturday, Haumiller saw an opportunity to get another three school's chants, cheers and atmosphere into the game, beginning with NCAA 14 next year. And, as his alma mater, Florida State would be playing mine, N.C. State, in the nightcap, he invited me along to get a look at—or a listen to—the process.
By next year, NCAA Football 14 will feature real crowd audio from 40 stadiums, about a third of the population in college football's top division. You can get a taste of what this sounds like if you play a game at Michigan, whose "Go Blue" chant is taken directly from the 24-track audio ESPN broadcast at last year's game against Ohio State. This year's game added audio from another two dozen stadiums in 2011—Texas, Oregon, Oregon State, Arkansas, Georgia Tech, even Penn State, on the day after Joe Paterno was fired (which must have been surreal. On one hand, it's a completely different crowd experience. On the other, the "We Are Penn State" chant likely came through loud and clear.)
It's important to go to these lengths for a couple of reasons. The National Football League has 30 teams but it's a much more uniform product from stadium to stadium. There are some crowd specific chants—"Go Pack Go" in Green Bay, to the "In-com-plete" Denver shouts at an opposing quarterback—but it's nothing like a college football game, where a school's culture and attitude about football influences the game's presentation as much as the time of day or the physical surroundings. You replicate that only with real audio, not testers on a roof shouting "Whoooo pig sooey," for Arkansas.
EA Sports often contracts this work out to college kids delighted by a paycheck and a great ticket to a game—the sideline pass, although even before last weekend I can tell you that standing in the corner by the student section at field level doesn't give you a great view of the game. Haumiller himself does it, too, often getting to between three and four games each year. He was at Ohio State-Michigan last year, and Clemson-Florida State this year.
Though the technical requirements are small—stand there looking like Gandalf, with a recording device atop a monopod—you do have to pay attention to the crowd and be ready if it says something distinctive. A great example was at North Carolina, where a successful third down conversion was greeted by the public address saying "That's a first down for the Tar ..." and the crowd responded, full-roar, "HEELS."
That "HEELS" is a very useful piece of audio, because it isn't otherwise obstructed by a pep band (EA Sports does not have permission to use a band's performance at the stadium, even if it has the rights to the fight songs they play). It can be stitched together with audio Ben got at the other end of the stadium to create a kickass "TAR ... HEELS" chant, or EA Sports could ask its P.A. voice to record a piece of specific audio that elicits the same reply in game.
I was helping Ben gather the audio at the three different stadiums we visited: Kenan Stadium in Chapel Hill, where North Carolina kicked off against Virginia Tech at 12:30; Wallace Wade Stadium at Durham, where Duke received Virginia at 3 p.m; and N.C. State's Carter-Finley Stadium, scene of a thrilling 17-16 Wolfpack victory over Florida State that night.
He positioned me by the student section for all three games. At UNC, I tried to capture how the fans would pound on the canvas awning over the tunnel to the locker room. Duke deployed the chants its students use at basketball games, which isn't as effective in a single-level, open-air football stadium, but will be recognizable to those who know the school. State offered pure volume, and in the southwest corner, dominated by students and superfans like these guys, I was able to capture both sides of the "WOLF/PACK" and "RED/WHITE" chant.
The recorder wasn't some giant complicated parabolic microphone either. You can see it in this image. It's a Zoom H2, a piece of consumer electronics (less than $200) though providing a good bang for the buck, especially if the unit is being Fedexed to Manhattan for a college kid to use in that day's Kansas State game.
When Haumiller does audio capture, he doesn't wear anything that identifies himself as an EA Sports representative. "That's all I need, some guy screaming 'It's in the game!' for four quarters," he chuckled. He likewise advises anyone doing audio capture to dress nondescript, and I did too, although once rowdy fans realize you're not taking pictures of a game, but sound, they tend to put on a show.
That's still fine, in a way. Distinctive crowd audio is the reason EA Sports is doing this in the first place and if a particularly demonstrative fan is out of place in one game, he or she may be useful in another. Haumiller gave a great example of a woman shaking a plastic milk jug full of coins at a game he attended—it ended up being the perfect "sweetener" for a high school game in NCAA's Road to Glory mode.
But very little of what we recorded actually will end up being used, because NCAA Football already has a deep enough library of generic shouts, reactions, boos, cheers and, my favorite, the "over rated" chant that rains down on a ranked team losing badly on the road.
The sound Haumiller and I pulled will be listened to by audio producers at EA Tiburon, who mostly look for spikes in the waveforms and then listen in to see if anything interesting or usable is there. And the crowd itself isn't the only thing designers will plug into next year's game. The scoreboard's sound file of State's howling wolf, or the bell ringing played by Carolina (meant to be the tolling of the Morehead-Patterson Bell Tower, whose cupola is visible in the game) could all be brought into NCAA Football 14.
Whether or not you're a fan of North Carolina, or any of the 40 schools expected to have authentic crowd audio in next year's game, there's a good shot you may play a game on the road against one of them. Virtually, of course. And if you can leave it all as Ben and I did—exhausted, ears ringing, but smiling at the good fortune that gave you more football than you could stand in a single day—then he will have done his job.