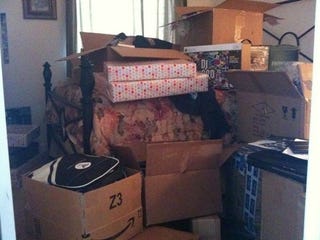 This Thursday gamers, hopefully lots of gamers, will be gathering in Denver to help raise money for Child's Play... and to empty out my guest bedroom.
The silent auction items and door prizes have so packed the room next to my office that I can no longer close the door. And I'm told Totilo has four more boxes of goodies heading to Denver as we speak. Among the things he's included is a Modern Warfare 2 edition Xbox 360, which we will be giving away to a lucky attendee.
If you're planning on coming, and you really should, here are the details:
Kotaku Child's Play Fundraiser
Where: Cervantes Masterpiece Ballroom
When: Thursday, Nov. 19 6 p.m. to midnight
Who: 16 years and up. Need to be 21 and have ID to buy alcohol.
How Much: $10 donation
What: Rock Band, DJ Hero and tons of console games up on stage and in a console arcade.
Why: To raise money for Child's Play... and have fun doing it.
Special thanks to:
Adam Barenblat
Cervantes Masterpiece Ballroom
Colorado Cutthroat Connection
Death of the Arcade
NetDevil and studios to numerous to mention.