In mid-November, Quantic Dream registered the domain singularityps4.com, suggesting a title and system for the second of two games the Parisian developer is said to be developing for Sony. Despite Cage declaring a lack of enthusiasm for the next generation of consoles, it's been evident for a while his company is eyeing future platforms.
Elden Ring's Top Five Spells, According To FromSoftWare's Stats
"Singularity" is a rather curious and possibly revealing title. David Cage acknowledged futurist Ray Kurzweil's recent book The Singularity is Near as a chief influence on Quantic Dream's "Kara" tech demo, and Kurzweil's exploration of the synthesis of man and artificial machine is very much up the wheelhouse of what Cage likes to focus on in his games. When asked in an interview about whether he would elaborate on Kara's themes and milieu in a future game, Cage delivered a rather evasive non-answer. And Cage's games do sometimes have titles that are rather on the nose.
G/O Media may get a commission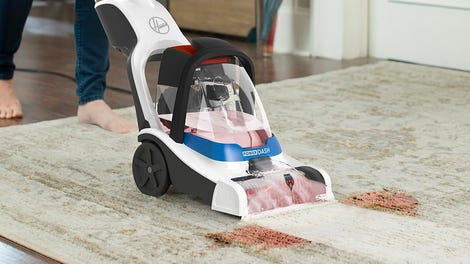 26% Off
Hoover PowerDash Pet Compact Carpet Cleaner
The singularityps4.com domain falls very much in line with past Quantic Dream domains heavyrainps3.com and beyondps3.com, and mirrors SCEE's general preference for domains that indicate a game's platform. Given these domain trends and Quantic Dream's status as a valued second-party Sony developer that would presumably privy to the overall strategy of their publishing partner, "singularityps4" could perhaps indicate that Sony will opt for the name of PlayStation 4 for their next console (a surprise to probably no one)—and the current codename of Orbis will vanish.
It is, however, quite unlikely that the game will come to market simply titled "Singularity." Singularity was, of course, the title of Raven Software's commercially unsuccessful time-travel-themed 2010 shooter, and Activision holds the "Singularity" trademark in multiple territories. ("Singularity" was also, oddly enough, the name of an apparently now-scrapped big-name action film at Sony Pictures about nanotechnology that Roland Emmerich and Kurzweil were collaborating on in late 2011—something that makes me wonder if Cage possibly consulted with Kurzweil for his project.) In order to use the name in commerce, Sony and Quantic Dream will have to add some sort of subtitle or additional words to make sure their name doesn't infringe on Activision's already existing mark, assuming "Singularity" is anything more than a working title.
* * *
According to Remedy Entertainment's recruitment page, the studio is now working on an "unannounced iOS project" alongside the previously known "unannounced AAA project for future generation consoles," which many believe to be a full-fledged sequel to Alan Wake.
This new iOS project is quite possibly a sequel to Remedy's first mobile release, a remake of their 1995 combat racer Death Rally that broke even in three days. Last August, Remedy's Oskari Häkkinen told VentureBeat that his studio is "going to be doing more Death Rally."
Häkkinen hinted that Remedy hopes to bridge the gap between Death Rally and the company's other franchises by placing a greater emphasis on cinematic storytelling as to "bring more life to the cars and the drivers." In terms of gameplay, he also hopes Remedy can tailor the next Death Rally with "user-generated content" in mind to allow players to realize "the craziest cars and the craziest weapons." (Additionally, a publicly accessible sitemap for Remedy's website reveals a page with the URL "death-rally-2.")
But a few weeks later, Häkkinen said in another interview that Remedy had not yet decided what its next mobile title will be. And despite the commercial imperative for a Death Rally 2, he said Remedy still wants to "create new themes and franchises" that suit its creative ambitions.
* * *
It appears XSEED is the American publisher for Suda 51's recently-revealed PS3 and Xbox 360 action title Killer Is Dead. Last week, the niche publisher registered the domain killerisdead-game, as well as presumably marketing-related sites killandlove.com and
loveandkill.com.
The game is yet to be confirmed for release outside of Japan, where it is slated for release in the summer. If one wants a very iffy suggestion for a possible American release timetable, the domains are set to expire in about a year.
Also of note: XSEED seemingly almost dipped its toes into the mobile free-to-play market last year. The company very quietly put up a site, trailer, and Facebook page for a "free to play action RPG for iOS and Android" that was intended for release last summer. The game, which was developed by Japanese mobile studio Blockbuster, seems to have been a fusion of Infinity Blade-esque touch and slash gameplay and a JRPG aesthetic.
* * *
Finally, amid THQ's troubles, Alex Peters, who was the studio head at THQ subsidiary Relic Entertainment, states on his CV that he left the Vancouver developer this month to join Activision. Peters was at Relic for two years, and prior to joining the studio, he served as game director on the ill-fated RPG Pirates of the Caribbean: Armada of the Damned and chief operating officer at DICE.
superannuation is a self-described "internet extraordinaire" residing somewhere in the Pacific Time Zone. He tweets, and can be reached at heyheymayday AT gmail DOT com.
Top photo: It's not a screenshot! It's a futuristic-looking dentistry robot. Photographed by David Guttenfelder | AP.
Read more Assorted Scoopery! Secrets lurk within.