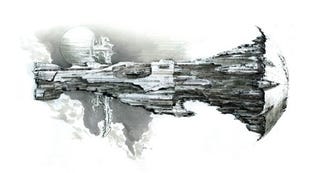 Fine Art
[Fine Art](https://kotaku.com/c/fine-art) is a celebration of the work of video game artists, showcasing the best of both their professional and personal portfolios. If you're in the business and have some art you'd like to share, [get in touch!](mailto:plunkett@kotaku.com)
It's widely known to the outside world for its politics, but EVE Online is also a rather pretty video game, especially when it comes to the unique and varied design of its spaceships.
Capitalising on this — and, you know, the huge amount of people actually playing the game — Dark Horse are releasing a new art book for EVE Online, which actually covers not just the MMO, but its spinoffs (DUST 514 and EVE Valkyrie) as well.
God, it's so good seeing pencil sketches in there.
The book is called EVE Universe: The Art Of New Eden. It's out later this month.
---
To see the larger pics in all their glory (or, if they're big enough, so you can save them as wallpaper), click on the "expand" button in the top-left corner.
Fine Art is a celebration of the work of video game artists, showcasing the best of both their professional and personal portfolios. If you're in the business and have some concept, environment, promotional or character art you'd like to share, drop us a line!
---