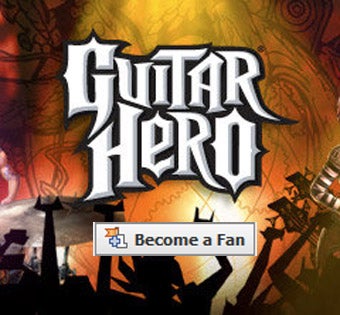 Facebook users have been clicking on the "Become a Fan" button on Activision's Guitar Hero page like crazy, making it the first video game franchise to gather more than a million Facebook fans.
If you had any doubts about the ever-growing importance of Facebook to the game industry, look no further than today's Activision announcement, heralding the impressive number of fans the Guitar Hero Facebook page has gathered. It's not about sales. It's not about review scores. It's about people clicking on a little button, and one million (1,084,288 as of this writing) people clicking a button is certainly impressive.
The page is used mainly to request feedback from the Guitar Hero community, asking the community which songs are the hardest to play, what bands they'd like to see, and generally gathering data that could be used to make future updates and versions of the game more tailored to community tastes.
That, or they could just be generating random conversations, though I'd like to think it was the gathering data thing.
So, are you one of the million fans?