I've been playing through Homefront on my new computer for the upcoming review (next week). I can't talk about that, but I would encourage Kaos not to mock me with rogue White Castles... that is all.
An algorithm that allowed the generation of working Microsoft point codes resulted in the unauthorized acquisition of what some claim could be as high as $1.2 million in virtual currency. More »
---
G/O Media may get a commission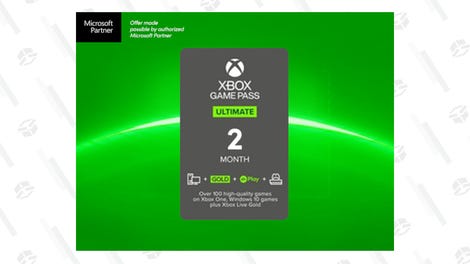 70% Off
Xbox Game Pass Ultimate Two-Month Subscription
While the Blu-ray patent infringement lawsuit between electronics manufacturer LG and Sony rages on, a court decision in the Netherlands has halted the confiscation of PlayStation 3 systems entering Europe, with the more than 300,000 units already seized ordered returned. More »
---
When I was a kid we had charity walkathons at my school. We walked around the playground, making money each lap for a cause I've forgotten. When I worked for MTV, Second Life was popular, so someone was doing a walkathon in that virtual world, for cancer research. Today, games in which you might be... More »
---
Okabu isn't meant to be an "issues" game. It isn't meant to teach you that we should care for our environment, that pollution could one day kill us. But it is, and it does. Fortunately it's also a charming, creative game that hides those lessons behind the oddly anthropomorphic heroes of Finnish.. More »
---
There's more than just awkward sex in Dragon Age 2. There's also, you know, a plot. Which ends in one of two forking paths. Even if you don't have thirty hours plus to spend earning the ending yourself, you could still pick only one of these videos to watch. More »
---
We're never going to know what the 10 best video games of all time are. But we sure can try. Since early 2010, my friend N'Gai Croal and I have been trying in the most semi-serious, pseudo-scientific way possible to deduce the 10 top games ever. More »
---
There's even more more than meets the eye in the next Transformers game, High Moon Studios' take on the Michael Bay explode-a-thon Transformers: Dark of the Moon. More »
---
Veho's Mimi Wifi Keyboard & AirMouse with Game Controller gizmo looks as clunky as it sounds. The device includes a full keyboard with definable hot keys, motion sensing air mouse, left and right mouse buttons, LED indicates for battery status all packed into a gamepad that also has two analog... More »
---
Contrary to 1995 movie Hackers, breaking into a computer system does not involve colorful cartoon characters. The act can be accurately represented visually, however, as proven in this excellent video created by Ben Reardon of Dataviz Australia. More »
---
There was a time when video game developers seemed to be seeking approval from a wider, more mainstream audience. Games were child's play, or so non-gamers seemed to think. More »
---
The cast of Marvel Vs. Capcom 3 get a feline makeover, courtesy of Capcom Unity's Wave. More »
---
We like tips!
Got tips for our editors? Want to show the world your latest creation? Ready to anonymously share an unannounced game? Email us at tips@kotaku.com.
Lost in our new layout?
Click here for the Speak Up or Tips forums. Want a more "blog-like" look? Click the button up top next to "Top Stories."
Get more Kotaku!
Want even more Kotaku? Want to know which of your friends read us? "Like" us on Facebook and follow us on Twitter.