Darren Aronofsky no longer needs to remake the Paul Verhoeven masterpiece, RoboCop, a movie so entrenched in our collective subconscious that its dystopian future may have influenced the downfall of Detroit more than the collapse of the auto industry.
Instead, we can all be satisfied with this strange monster: a live production based on the film RoboCop, with sets made entirely from cardboard.
The DiY set is topped off with sparklers on a rotating ED-209 gatling gun and crowed infused pyrotechnics that send a wave of heat over the room. The Old Murder House Theater troupe puts forth a comedic, but faithful adaptation of the dystopian film, with all of the high points of the first episode of the RoboCop saga hit in an hour, including the commercials and news reports that set the tone for the film.
G/O Media may get a commission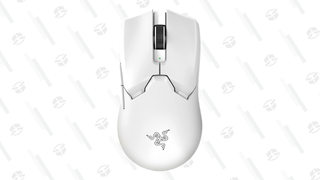 15% Off
Razer Viper V2 HyperSpeed Wireless Gaming Mouse
Pro gaming
ses a focus pro 30k optical sensor for unreal accuracy, is only 59g which puts little-to-no pressure on your wrists and allows for faster response times and longer sessions, has switches that last for 90 million clicks, has an absurdly fast wireless connection, and a battery life of up to 80 hours.
The play made sense to the viewers I was with who, travesty of travesties, had never seen Verhoeven's second best film (Starship Troopers 4 Life). An impromptu musical number, "I am a RoboCop", set to Basil Poledouris' synthesized title theme and live action trailers for period movies like Free Willy, Matilda, and Mission Impossible round out the experience.
Old Murder House Theater, a group made up of several graduates of the Savannah College of Art and Design, put forth another labor of duct tape and do-it-yourself love, Back to the Future: Live!, which you can see a bit of here.
If you are in or around Austin, Texas, pay the minimalist $5 fee at Old Murder House Theater and take a friend or loved one. Don't sit too close to the pyrotechnics or you'll get your hair singed. Better yet, take someone you don't like, and sit right next to the pyro. Make up your own Prime Directives. In the meantime, I'll be waiting for a stage version of Top Gun, complete with cardboard fighter jets and a featuring a rap battle during the volleyball scene.
Photos are courtesy of Ryan Green Photography and Old Murder House Theater.