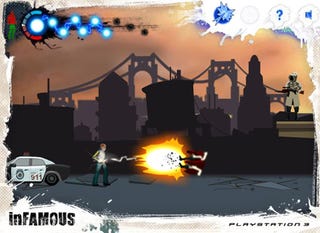 If you can't wait until next week and the demo just isn't giving you enough inFamous, perhaps the official inFamous Mini-Game can be of service.
Developed by Kerb and hosted exclusively at Spil Games' network of online casual gaming portals, the inFamous Mini-Game is a 2D platformer starring the full game's protagonist Cole, who must make his way to a power generator atop the roof of an abandoned precinct house. Along the way he uses his electric power to take out enemies, solve puzzles, and render pay phones inoperable. The game allows players to choose to play as good Cole or bad Cole, with how they behave affecting the game's final outcome.
It's a nifty little game. No substitute for the real thing, but it'll definitely pass the time. To play the inFamous Mini-Game, visit one of the websites below and search for inFamous. They're rolling it out between now and May 29th, so if it isn't on one it's bound to be on another.
You can find the inFamous Mini-Game at the following websites:
www.Agame.com
www.MyGames.co.uk
www.Spielen.com
www.Spel.nl
www.Jeu.fr
www.Giocaregratis.it
www.Zapjuegos.com
www.Clickjogos.com
www.Minigry.pl
www.Spel.eu
www.Flashgames.ru
www.Game.co.in
www.Games.co.id
www.Egames.jp
www.A10.com