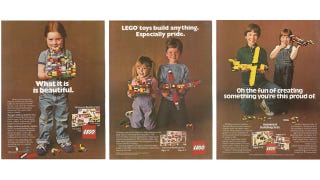 There was a bit of an uproar earlier in the year when LEGO introduced a line of modified products targeted exclusively at girls. To provide a little context for that uproar, social media marketer and LEGO fanatic David Pickett has written a great feature breaking down the history, and statistics, of just how many LEGO characters/figures have been dudes and how many have been ladies.
It takes a while to get going, since for years the only times a female would specifically appear was in an advertisement, but the introduction of the Pirates line in the late 80s changed the game.
It's something you probably would never have even thought about, but seeing it all laid out, with stats on the annual breakdown between male/female, is super interesting.
PART I: HISTORICAL PERSPECTIVE ON THE LEGO GENDER GAP [Sociological Images, via Boing Boing]
PART II: HISTORICAL PERSPECTIVE ON THE LEGO GENDER GAP [Sociological Images]