Earlier this week, we wrote about the Reaper Lords—a fascinating crew with hundreds of members that roam the streets of GTA Online. We told you all about their love of motorcycles, their intense rules, their dress code, and their curious social media presence. Today, you get to hear from an actual Reaper Lord.
I got a chance to chat with the Reaper Lord's "Brandless," a Paleto Bay member who also happens to be the vice president of the organization. All the tweets and videos we showed you the other day, like these ones?
G/O Media may get a commission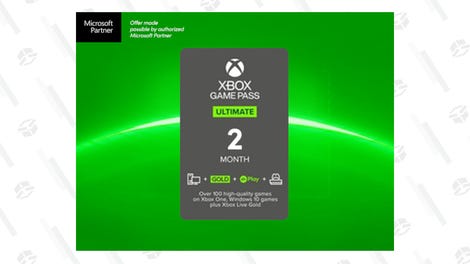 70% Off
Xbox Game Pass Ultimate Two-Month Subscription
That's his work. He manages the brand, which makes his handle a little ironic.
During our talk, Brandless, a 22-year old who loves GTA games, told me a little about the Reaper Lord's history.
"This brotherhood was formed in December of 2013, and it was created for the simple purposes of giving other players an environment to play and ride with like-minded people," Brandless explained.
"More specifically, [the Reaper Lords were] founded by LordKingGod, he wanted to recreate the brotherhood from his military past. That is where the general idea came from. I was lucky enough to find this featured on [Rockstar's Social Club] in January, and decided to prospect."
According to Brandless, a typical day for a Reaper Lord varies, depending on your role.
"Each day is different. In general, we meet up, either educate and evaluate prospects, or we can go into other crew-hunting sessions. This is also a practical way to test our prospects on combat skills, a lot of the time we ride around the city, country in formation, and chat," Brandless explained.
"Sometimes it can be a shut up and listen type of day, or it can be totally different. Some days we dedicate to recruiting, others we dedicate to riding, and combat training."
At the center of it all, though, is brotherhood—this word repeatedly came up during our interview. It's clear that the Reaper Lords go through the training and intense rules for a sense of camaraderie—a stark contrast to GTA's general hectic, sprawling vibe.
"We look our brothers, and sisters each and every day. We have three female patch members, two on Xbox, and one on Playstation," Brandless said.
"Being a Reaper Lord is about loyalty, brotherhood, and respect. Without these 3 characteristics, we wouldn't differ from any other GTA Online [motorcycle club]. What makes us us, is that we're organised, structured, and mature. People are willing to listen to what we have to say, and do whatever we ask. We expect that of our prospects, their undivided commitment and loyalty. We understand it's a video game, but we create an escape from normality where you get to play, ride, and kill with like-minded people.
Of course, being a Reaper Lord isn't just about riding choppers into the sunset. Brandless also described a strict training regimen, meant to discipline members and give members a competitive edge against other players and crews.
"We have a system where prospects have to earn their patch, nothing is simply handed to them. Without going into too much detail, prospects are brought up at patch meetings, and we vote on them to be inducted as a fully patched brother, but this vote must be a majority overall vote.
"We're [also] very big on combat, so regular training does take place," Brandless said. "This entails communication, and better knowing our maps and surroundings. We have our own system for training, I don't want to touch too much on that for reasons of a competitive nature—I will say that we have our own techniques and tactics that we tend to pass down."
While all of this might seem like taking the game way too seriously, the Reaper Lords are still in it to have a good time—not just terrorize other players, or lay claim to parts of the map.
"The goal is, and always has been to have fun," Brandless said. "Turf is digital, and unfortunately cannot be claimed. As much as we enjoy tearing apart other Clubs, and crews—that isn't our main motive. Every Lord is different, some are in it purely to ride and relax, others want to battle it out, that's the beauty of it.
"Beneath the structure, organisation, and respect, we all have our own motives and preferences. Which makes us one of the most, hell I dare to say formidable clubs out there right now.
"There's something to be said about turning up my headphones full blast, while we're riding in formation, seeing everybody in complete synchronization is simply beautiful, it's not uncommon for us to ride with a full lobby of 16 people either."
But even if it is just for fun, it's hard not to be struck by the Reaper Lords when you come across them in a game. I say this mainly based on the images they've shared on Twitter, but people inside the game have a similar reaction to the Reaper Lords, too.
"Some are in awe and want to join up immediately, others run off as we ride in packs, and some just attempt to challenge us. A lot of the time it's amusing to go into game chat, not say anything and then roll up on someone and see how they react after seeing 6+ people roll up on Harleys," Brandless said.
A few surprising things come up during our chat. For one, after initially looking through their videos, I had the misconception that it was a gang compromised of mostly kids. A lot of commenters assumed the same thing. But according to Brandless, that's not actually the case.
"The majority of our club is 18 and over," Brandless claimed. "I'm 22 myself and a lot of the guys are mature, have families, full time jobs, and otherwise 'real life' responsibilities...it is the way it is because of the patience, determination, and maturity we carry."
That's not to say there aren't some kids in the club, of course, but Brandless assured me the majority wasn't. And yes, some members do like motorcycles outside of the crew.
"Surprisingly we have a couple of guys who in real life, ride Harleys, and have the biker image, which is really cool," Brandless said.
What they want to make clear, though, is that they don't see themselves as bikers or anything like that—for them, it's just fiction, role playing. After talking to Brandless, the stuff they put up on social media seems more like earnest marketing more than anything else.
"We don't view ourselves as a gang, we're a club," Brandless said. "We're a Motorcycle club. Before all of the violence, and digital 'crimes' we're an organised, structured society of motorcycle enthusiasts...when I think of the word gang, I think of a bunch of unorganized, immature folk. When I say we're not a gang, we're a (fictional) motorcycle club, I mean that the key characteristics that define an motorcycle club are what set us apart from the generic "gang" culture."
Maybe that seems like a weird distinction, but it's a real one. A biker gang is not the same thing as a motorcycle club, though they might share some similarities. A club, for example, might have elected officials, as the Reaper Lords do.
The last thing the Reaper Lords want to leave you with? A petition to bring more biker DLC into the game, so the Reaper Lords have more stuff to play with.
You can read more about the Reaper Lords here, or check out their website here.