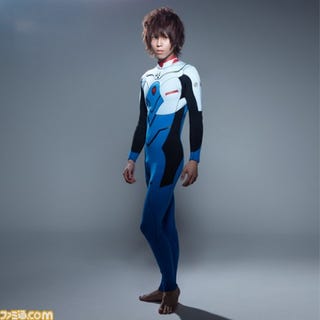 Neon Genesis Evangelion wetsuits aren't only for nerdy Japanese celebrities. You too can take a dip in the ocean with one. That is, if you've got two grand to squander.
Neon Genesis Evangelion is a hugely popular anime franchise that also consists of manga and video games. The series follows the adventures of young mecha pilots. The pilot suits they wear are called "plug suits".
The plug suits are popular, though costly, cosplay attire. Last year, an Evangelion wetsuit was spotted on nerd princess Shoko Nakagawa. Flattering, it was not.
Perhaps you can pull off either the suit worn by characters Shinji Ikari, Rei Ayanami or Asuka Langley Soryu. A suit will set you back ¥163,800 (US$1,981), putting it at the very high end of ocean fashion.
『ヱヴァンゲリヲン新劇場版』のプラグスーツがモチーフのウェットスーツが登場 [ファミ通.com]