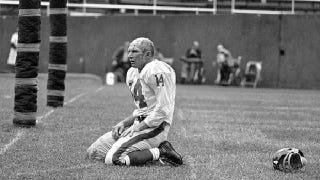 Folks, I am exhausted. Out-Raptured and out-wrestlered. But in our discussion group, the Earth's prophesied demise and Randy Savage's actual one blot out many other topics today. Let's see what else we can yack about.
• Writer Clive Thompson engages an IM chatbot trying to hustle him to a sex site, and realizes it has, in fact, initiated "precisely the sort of misdirection [Alan] Turing included" in his original test of artificial intelligence.
• A Chinese man goes to the hospital to be treated for gall stones. He awakens with the Chinese letters for "stone disease" tattooed on his ass.
• A woman in Dayton, Ohio, microwaved her 1-year-old. She's going to spend the rest of her life in prison; a jury spared her the death penalty.
• Defense lawyers in a civil suit in Chicago formally complain that the plaintiff's attorneys are parading a rather large-chested woman as a "paralegal assistant" in the courtroom, in an effort to distract the jury.